Tree Pests: Emerald Ash Borer
EAB quarantine information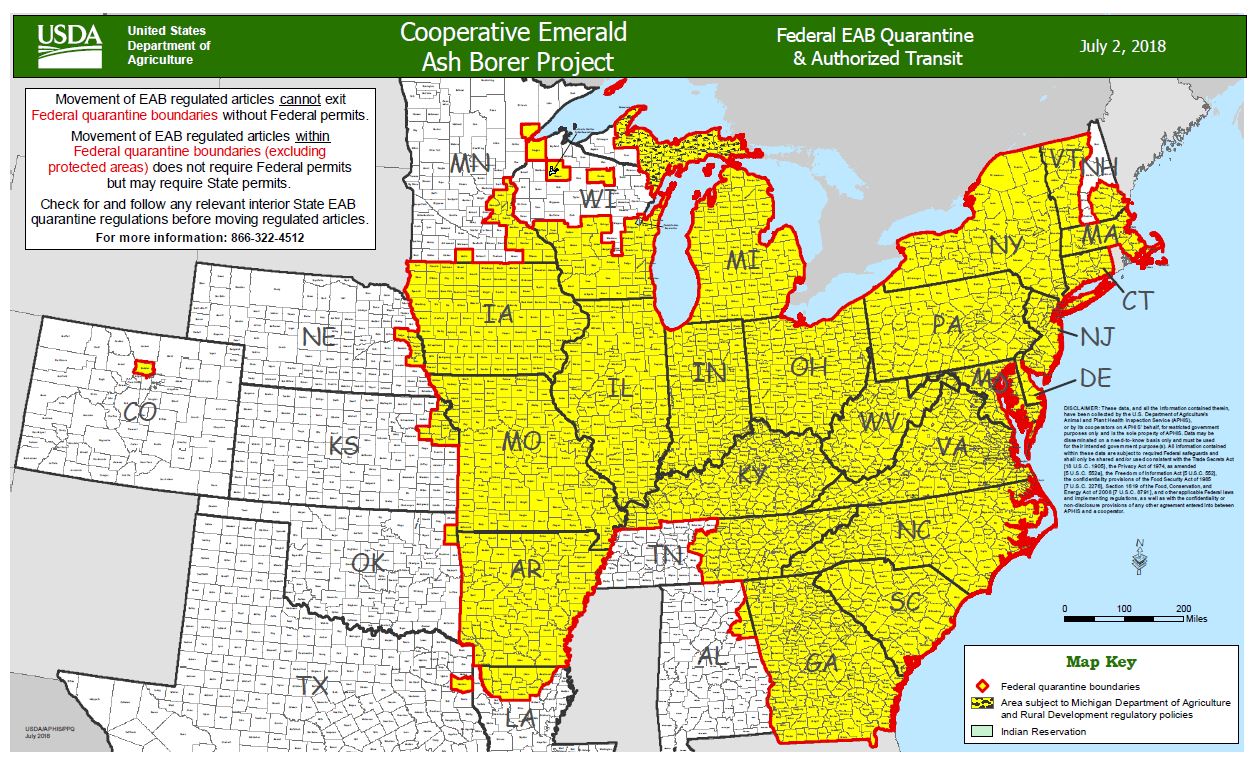 Download a PDF of this map
Various EAB quarantines throughout North America.
All 114 Missouri counties and the city of St. Louis are now under federal and state quarantine to prevent the accidental spread of the borer to states with no reported EAB locations. The following is a brief chronology of the issuance of state and federal quarantines:
Aug. 28, 2008
The original emergency quarantine is issued for Wayne County. See the original interior quarantine (PDF) for a list of regulated articles and conditions of their movement.
Sept. 20, 2012
The Missouri director of agriculture adds the counties of Carter, Clay, Iron, Madison, Platte, Reynolds and Shannon.
Nov. 21, 2013
The USDA Animal and Plant Health Protection Service (APHIS) issues a federal quarantine (PDF) for the entire state of Missouri.
The quarantine regulates the movement of potentially-contaminated wood products including:
Ash nursery stock
Any part of an ash tree; including logs, green lumber, waste, compost, chips, etc.
Firewood cut from any species of hardwood
Anyone involved in moving these regulated articles out of the quarantine area must obtain a limited permit, certificate and/or compliance agreement from USDA to determine the appropriate safeguarding measures. Please contact USDA via email at [email protected] or call 573-893-6833 for further information and to determine your specific needs. With appropriate steps, regulated articles may be safely moved by following the guidelines spelled out in the compliance agreement:
Nurseries
Ash nursery stock is prohibited from being distributed outside of the EAB quarantine area.
Mills and loggers
Ash logs cannot be moved out of the quarantine area during the adult flight period (roughly April 1 through Sept. 30) unless fumigated or debarked. From Oct. 1 through March 31, ash logs might be allowed to be moved to an approved mill outside of the quarantine area for processing by March 31. Bark and wood waste must be processed by March 31. These processes must be approved by state or federal agriculture agencies.
Green lumber manufacturers
Ash lumber will need to be processed in an approved manner, such as complete removal of bark (plus 1/2 inch of wood), kiln drying by approved standards or fumigation prior to distribution out of the quarantine area. All processes will need approval by state or federal agencies.
Pallet producers
Ash lumber (generated from ash from the quarantine area) used to make pallets will need to be processed in a manner approved by state or federal agencies.
Although movement of the above regulated items is now allowed within Missouri, we urge all Missouri citizens to help slow the spread, especially when it comes to moving firewood and wood for woodworking purposes.