Tree Pests: Emerald Ash Borer

Emerald ash borer (Agrilus planipennis) is an exotic, invasive, wood-boring insect that infests and kills native North American ash trees, both in forests and landscape plantings. Just like the Dutch elm disease that killed our native American elm trees, emerald ash borer (EAB) is capable of eliminating all ash trees from our forests and cities. This makes it one of the most serious environmental threats now facing North American forests.
With EAB now in several areas of the Show-Me State — and its ability to hitchhike on firewood — the probability of it spreading to noninfected areas in the state is high.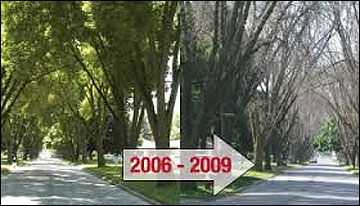 Once EAB is found in your community, ash-lined streets will suffer the same fate as this Detroit neighborhood. (Photo by Dan Herms, Ohio State University.)
It is expected that EAB will diminish ash trees in Missouri's forests to a very low level. Although ash trees account for just three percent of Missouri's native forest, the fast-growing shade tree is popular for landscaping. On average, about 14 percent of trees lining streets in urban settings are ash. In some neighborhoods and parks, the figure reaches as high as 30 or 40 percent.
Once EAB has infested an area, standing dead trees will be a serious threat to public safety and the cost of removing dead trees will be very high for homeowners and communities alike.
EAB in Missouri

Frequently asked questions

EAB University