Editor's note
The following abstract describes a publication that is only available for purchase. See the "Add to cart" button on this page.
The causal agent of sudden oak death (SOD, also known as Phytophthora canker disease), Phytophthora ramorum, was first identified in 1993 in Germany and the Netherlands on ornamental rhododendrons. P. ramorum was isolated in June 2000 from dying trees in California. Since its discovery in North America, P. ramorum has been confirmed in forests in California and Oregon and in nurseries in California, Oregon, Washington, and British Columbia.
SOD is not involved in the oak decline event that is currently being observed in Arkansas and Missouri. To date, no positive SOD samples have been confirmed in Missouri.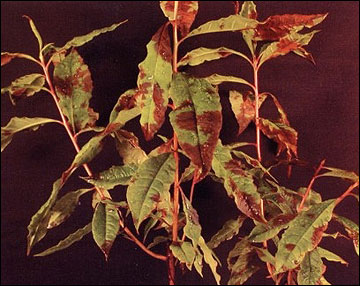 Foliar lesions on Rhododendron vaseyi infected by P. ramorum.

Topics
Ambrosia beetles
Arrowwood
Bark beetles
Bark cankers
Bay laurel
Bigleaf maple
Blue oak
California black oak
California buckeye
California hazelnut
Camellia spp.
Canyon live oak
Cascara
Coast live oak
Coast redwood
Coffeeberry
Douglas fir
Foliar blights
Grand fir
Honeysuckle
Lilac
Madrone
Manzanita
Mountain laurel
Northern red oak
Oregon myrtle
Oregon white oak
Ornamental rhododendrons
Petiole lesions
Phytophthora canker disease
Phytophthora ramorum
Pieries spp.
Pin oak
Poison oak
Rhododendron spp.
Sapwood rotting fungus
Shreve's oak
SOD
Stem lesions
Sudden Oak Death
Tanoak
Toyon
Vaccinium spp.
Valley oak
Victorian box
Western Starflower
Pages