Step Up to Leadership: A Curriculum for Developing Community Leaders (Participants' Manual)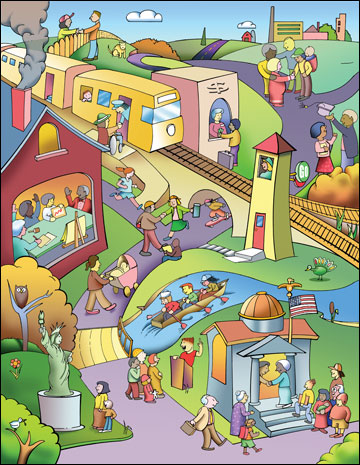 Editor's note
The following abstract describes a publication that is only available for purchase through Johanna Reed Adams. Missouri community action agencies can purchase the book for $10 — contact Johanna Reed Adams for more information.
The Step Up to Leadership curriculum intertwines two learning goals
To present content learning about specific topics a novice board member will need to know
To provide a learning environment where participants can develop self-awareness and enhance their understanding about human nature and relationships.
The Participants' Manual contains narrative explaining each topic and all the essential learning points. Recognizing that many terms will be unfamiliar to some participants, the curriculum includes a section at the back of the manual referred to as Wordsmith.

Step Up to Leadership session topics
Introduction
Session 1
Come as You Are
Session 2
Planning for Your Passion
Session 3
Team Up
Session 4
Understanding Diversity
Session 5
Embracing Diversity
Session 6
All Aboard — The Legalities
Session 7
All Aboard — The Practicalities
Session 8
Meeting Manners and Meeting Matters
Session 9
Conflict as Opportunity
Session 10
Speak Up, Speak Out
Session 11
Funding the Way
Session 12
Stepping Out
The Wordsmith
Topics
Community action
Communications
Intrapersonal skills
Decisions
Planning
Pages