Chief Officer, 3rd Edition Manual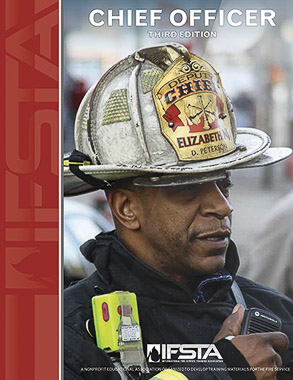 Editor's note
The following abstract describes a publication that is available for purchase in print or as an e-book. See the "Add to cart" button on this page.

If needed, see the MU Fire and Rescue Training Institute tax-exempt ordering information and e-book details and policies.

E-book activation and access: Please allow up to two business days to receive your activation code and download link by email.
The new updated third edition of Chief Officer is designed to meet the job performance requirements for Fire Officer III and IV in NFPA 1021, Standard for Fire Officer Professional Qualifications, 2014 Edition.
The content of this text provides chief officers and chief officer candidates with advanced level knowledge and skills to supervise, manage, and administer fire and emergency services organizations.
The third edition of Chief Officer concisely presents the material making it easier for students to comprehend and easier for instructors to use. The chapter arrangement provides a logical sequence for instruction. Material that supplements the job performance requirements of the standard is only included when determined necessary by the validation committee.
Case Histories open each chapter to illustrate important real world lessons. New learning objectives, images, tables, and review questions to illustrate key points are all included.
The eight chapters are divided into Fire Officer III and Fire Officer IV when applicable.
Chapters
World of the Chief Officer
Human Resources Management
Community and Government Relations
Emergency Services Administration
Fire Inspection and Safety Planning
Emergency Services Delivery
Emergency Services Health, Safety, and Wellness
Emergency Management
Product specifications
Publisher: International Fire Service Training Association (IFSTA)
Printed version specs
ISBN: 978-0-87939-568-1
Pages: 376
E-book specs
ISBN: 978-0-87939-569-8
For more information, see e-book details and policies.