Fire and Emergency Services Company Officer, 5th Edition Manual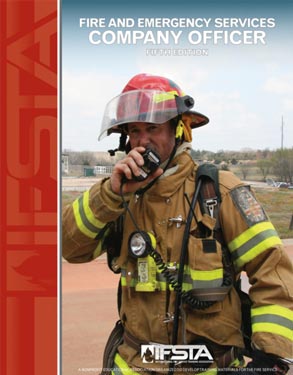 Editor's note
The following abstract describes a publication that is available for purchase in print or as an e-book. See the "Add to cart" button on this page.

If needed, see the MU Fire and Rescue Training Institute tax-exempt ordering information and e-book details and policies.

E-book activation and access: Please allow up to two business days to receive your activation code and download link by email.
This new IFSTA manual details the training required of Company Officers according to NFPA 1021, Standard for Fire Officer Professional Qualifications, 2014 Edition. The manual is divided into two sections to make a clear distinction between the information needed for Fire Officer Level I and Fire Officer Level II. Both print and eBook formats are available.
There is no shortage of issues that a company officer might face in the everyday operation of a fire company or unit. This manual addresses the wide range of topics and issues encountered by a company officer, from leadership and supervision to health and safety issues. Great attention was given to focus on the job performance requirements of NFPA 1021.
The fifth edition of Fire and Emergency Services Company Officer builds on the previous edition of the manual while presenting the material in a more concise manner to make it easier for students to read and instructors to teach. By merging related topics, the number of chapters was reduced from 32 in the fourth edition to 17 in the new manual while preserving the material related to the NFPA standard. The number of appendices was reduced from 20 to four by removing information that can be found in other media.
Along with reducing the volume of material from the fourth edition, the fifth edition of Fire and Emergency Services Company Officer offers several new features. The manual features a new look with IFSTA's single-column format and upgraded and updated curriculum components. Learning activities are included to help instructors present the material to their students.
Case histories open each chapter to illustrate important lessons learned in the real world. Photographs, illustrations, and tables are included throughout the manual to illustrate key points and improve the overall instructional value of the material.
Chapters
The Company Officer
Organizational Structure
Leadership and Supervision
Human Resources Management I
Communications
Administrative Functions
Health and Safety Issues
Company-Level Training
Community Relations and Company-Level Fire Inspections
Preincident Surveys
Deliver of Emergency Services I
The Company Officer II
Human Resources Management II
Administrative Responsibilities
Origin and Cause Determination
Delivery of Emergency Services II
Safety Investigations and Analyses
Product specifications
Publisher: International Fire Service Training Association (IFSTA)
Printed version specs
ISBN: 978-0-87939-564-3
Pages: 516
E-book specs
ISBN: 978-0-87939-570-4
For more information, see e-book details and policies.