Technical Rescue For Structural Collapse, 1st Edition Manual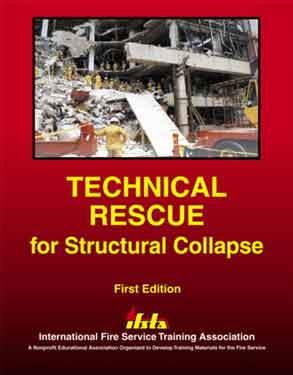 Editor's note
The following abstract describes a publication that is available for purchase in print or as an e-book. See the "Add to cart" button on this page.

If needed, see the MU Fire and Rescue Training Institute tax-exempt ordering information and e-book details and policies.

E-book activation and access: Please allow up to two business days to receive your activation code and download link by email.
North American Version
Because fire department personnel are usually the first responders to structural collapses, firefighters should be trained to locate and free victims from collapsed structures in the safest and most efficient way possible. This manual, which addresses the structural collapse portion of NFPA 1006, Standard for Rescue Technician Professional Qualifications , and the 1999 edition of NFPA 1670, Standard on Operations and Training for Technical Rescue Incidents , is designed to go beyond the basic rescue skills detailed in the Fire Service Search and Rescue manual to cover those needed by the rescue technician at these types of incidents.
Product specifications
Publisher: International Fire Service Training Association (IFSTA)
Printed version specs
ISBN: 978-0-87969-225-3
Pages: 369
E-book specs
ISBN: 978-0-87939-549-0
For more information, see e-book details and policies.