Health Information for Men Curriculum
Editor's note
The following abstract describes a curriculum designed for extension faculty and not for the general public. It is intended for print distribution. Please see ordering information on this page.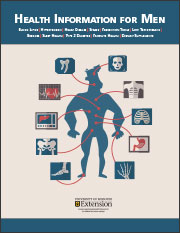 The Health Information for Men (HIM) curriculum developed by University of Missouri Extension aims to address a void in community health programming targeting middle-aged males. Specifically, the program goal is to encourage men to make more effective choices in their health management. Several assumptions underpin this program:
Men's health is increasingly a public health concern. While their health has been improving over time, men still have a shorter life expectancy than women do.
Men generally visit their doctors less frequently than women, which increases the odds they'll face more severe health issues that can lead to poorer health outcomes and increased medical expenses.
Encouraging men to make healthier lifestyle choices and routine use of health services should result in improved health, reduced medical expenses and less loss of income.
Each 30-minute module includes a participant activity, an action plan for behavior change and handouts.
Men's health and wellness is an issue that can affect an entire family, not just the men themselves. Our goal is to use HIM to enhance health and well-being for all!
Topics
Blood lipids
Hypertension
Heart disease
Stress
Prevention tools
Low testosterone
Exercise
Sleep health
Type 2 diabetes
Prostate health
Dietary supplements
Pages