Rules for Missouri Fire Protection Districts
Ballard Local Government Series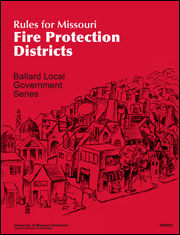 Acknowledgments
The purpose of this manual is to help fire protection district officials understand and comply with the state's requirements. It is, first and foremost, the work of the late John Ballard. This edition would not be possible without the original manual that John conceived and wrote.
The effort to continue John Ballard's work depends on many people. First, John's family led the effort by making his work available to University of Missouri Extension. Patrick Cronan, attorney, revised and updated Mr. Ballard's original for the second edition. The third edition was revised and updated by Monte Olsen, an instructor for the Fire and Rescue Training Institute, University of Missouri Extension. He received advice and comments from Frank Vatterott, partner, Vatterott, Harris, Devine, Dwentus, PC; Jason White, MPA, EMS consultant, Mid-America Regional Council; and Robert Patterson, executive director, Mercy Emergency Medical Services.
Attorney Douglas B. Harris of Harris, Harris, & Gilbert, LLC, in Warrensburg, Missouri, completely reviewed the manual. We owe him many thanks.
Judith I. Stallmann, emeritus professor of agricultural and applied economics and public affairs, University of Missouri, is the editor of the series. Dennis Murphy provided the original art for the cover, and Sharon Wood-Turley provided the final editing and layout. We express our deepest appreciation to all who contributed to this work. They provided the quality; any errors are ours alone.
It is hoped this effort is useful to those who make local government work. Readers should recognize that the topics covered in this manual can rapidly change due to court decisions and new federal and state legislation. The advice or recommendations contained herein may not, therefore, be completely up-to-date or accurate at all times. We recommend that districts engage legal counsel as needed in order to ensure that planned actions are appropriate.
Judith Stallman
May 2020
Original author
John Ballard