2021 featured storytellers
Beth Horner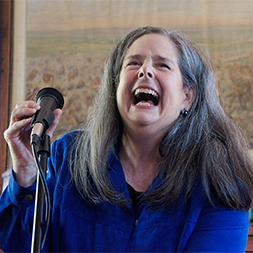 Beth Horner is noted as a vivacious talent dedicated to providing an entertaining and empowering experience for her listeners, young and old. With a comic sensibility and warm, energetic style, Beth possesses a repertoire of stories that has been called "heartfelt, articulate and truthful." Her stories are renowned for their high comedy and stunning drama: from her hysterical childhood farmyard escapades to eerie folktales of her native Missouri, from a side-splitting bawdy spoof on romance novels to a courageous tale drawn from her great-great grandfather's Civil War diary, and from the humorously inspiring story of a song that motivated change in a city's sewage policy to her comedic tour-de-force tale told with nothing but the buzzing cadences of a kazoo.
A National Storytelling Network Circle of Excellence Oracle Award winner, Beth has been sought  after as a storytelling performance and teaching artist since 1983. She has performed multiple times at the National Storytelling Festival, on Live From National Geographic, at Miami's International Art of Storytelling Festival, and most recently served as narrative consultant for NASA/Johnson Space Center's Story Mining project for which she collected the stories of the scientists behind the Apollo Space Missions.
Horner's lively, traditional storytelling style often incorporates music, creating a unique performance which critics have called "dynamite!" Beth's goal as a storyteller is to entertain and to encourage her listeners to dip into the wealth of their own imaginations. She came to the art of storytelling naturally, having been raised in Boone County, Missouri by a city grandmother who told her fairy tales learned from library books, an English Professor mother who introduced her to literature and poetry, a sister who starred her in farmyard productions of plays and musicals and a Farmer/Meteorologist father who regaled her with stories of her ancestors — of both good and questionable repute!
Bobby Norfolk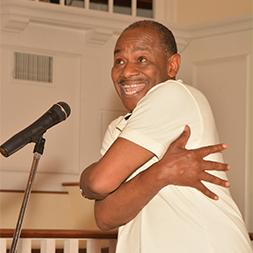 Bobby Norfolk grew up a shy child in North St. Louis with a debilitating stutter. Son of an elevator operator and confectionery clerk, Norfolk's future was hazy as a poor black kid surrounded by violence and gangs in the inner city. As a youth, Bobby wondered "What could a discouraged kid from the low-rent blocks of St. Louis do with the rest of his life?" Norfolk's path toward storytelling and success began in 1961 when he suddenly overcame his stutter when performing in a fourth-grade poetry recital. From that moment, his teachers helped him grow both as an individual and a performer. 
His career began as a stand-up comedian in 1975 at local St. Louis comedy clubs and as an actor with The St. Louis Black Repertory Co. Concurrently, he worked ten years at the Gateway Arch in St. Louis as a National Park Service Ranger. In 1979, Bobby made his first appearance as a storyteller at the St. Louis Storytelling Festival, and discovered that through storytelling he was able to combine his theatre and stand-up comedy background to become a "story-performer. Along the way, he discovered too that the human brain is just naturally hardwired for storytelling." After a Scott Joplin performance at a school in Ladue, MO three teachers said: "Mr. Norfolk, we've been talking and we decided that you remind us of a clean Richard Pryor!" ​In television, Bobby won three Emmy awards as the host of the CBS TV show "Gator Tales" and also hosted the Emmy nominated series "Children's Theater at Bobby's House." Both shows were based out of St. Louis and promoted themes of character education, literacy, and storytelling. 
Many people describe Bobby as an adventure story come to life! His high energy performances combine lively animation, unique sound effects, amazing facial expressions and laugh out loud humor to engage, entertain and educate audiences of all ages. His performances promote literacy, cultural diversity, living history, music and character education. Truly, Bobby is a gift for your imagination!
Joyce Slater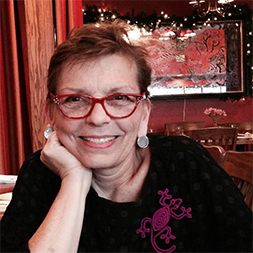 Joyce Slater hails from Kansas City and has been a long-time storyteller at the St. Louis Storytelling Festival. She tells stories for everyone from pre-school through adult, and they range from participatory stories for the little ones to personal experience stories for adults.  Among her favorite storytelling topics are stories about Missouri history, Holiday tales, Ozark adventures, Ghost stories and more. Stories from folktales, fairytales, fables, myths and legends come to life with puppets and songs. Her stories bring people of many cultures together through her own work in schools, libraries, retirement centers and festivals and the storytelling festival she serves.
Joyce teaches workshops for adults and children, including Beginning Storytelling, Telling your Personal Story, Storigami and more. For the past year, she has been the Storytelling Consultant for the Bicentennial Storytelling Program at The Story Center at Woodneath library in KC. She coaches other storytellers and public speakers from all walks of life.
She is the Artistic Director for the KC Storytelling Celebration and the President of Missouri Storytelling Inc. Joyce Slater is available for Virtual programs on Zoom, YouTube and Facebook and will adapt to other platforms.  She will also travel.
---
Regional storytellers
| | | |
| --- | --- | --- |
| Alexander/Madison KC Chapter of Buffalo Soldiers | Angela Williams | Barney Bradshaw |
| Beth Horner | Bobby Norfolk | Brian "Fox" Ellis |
| Carol Watkins | Carole Shelton | Daniel "Digger" Romano |
| Darrin Crow | Deb Swanegan | Faye Dant |
| Flavia Everman | Heather Harlan | Janet Brown |
| January Kiefer | Jim Two Crows Wallen | John 'Brother John' Anderson |
| Joyce Slater | Justin Watkins | Karen Young |
| Ken Wolfe | Kenya Ajanaku | Larry Brown |
| Linda Kuntz | Marilyn Sue Warren | Mike and Nancee Micham |
| Nartana Premachandra | Paul Norfolk | Ric Vice |
| Roger Rose | Sherry Norfolk | UMSL Researchers and Community Artists |