2020 Featured Storytellers

Willy Claflin is a one-man festival. Spanning historical sagas, intergalactic yarns, and counter culture misadventures, he covers the full spectrum of spoken word entertainment. A musician and storyteller since the early 1980s, Willy Claflin tells original and traditional stories, and is the speaking-mouth-person for Maynard Moose, the only quadruped on the storytelling circuit. He also sings traditional ballads from the British Isles and Appalachia, blues, and his own original tunes.
Claflin has authored multiple award-winning recordings and has performed across the globe, including at the International Storytelling Festival in Ireland. He is an NSN ORACLE Circle of Excellence award recipient.He offers stories for families as well as adults, often weaving music into his performances. An accomplished guitar player and narrative ballad specialist, Willy is sometimes joined by his son Brian for performances of In Yonder's Wood—a celebration of traditional music from the British Isles and Appalachia.
His tributes to departed tellers, especially Gamble Rogers, revive wonderful talent that might otherwise be forgotten. Festivals love sidekick Maynard Moose. Original, traditional, historical, personal, comic—regardless of genre, Willy fits any playbill.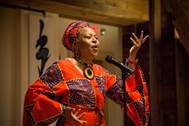 Queen Nur (Karen Abdul-Malik) is a highly interactive International Storyteller, Folklorist and Teaching Artist from Willingboro, NJ. She is the Immediate President of the National Association of Black Storytellers, Inc. Following the griotic tradition, her stories capture historical victories, celebrate folkloric traditions, and profoundly speak to the quintessence of humanity.
For 25 years she has enthralled hundreds of thousands in over 34 states at such venues as the Kennedy Center in Washington D.C.; The Opening of the Smithsonian National African American Museum of Culture and History; Equitable Tower Theater on Broadway; NJN Television; Toronto Street Festival; National Storytelling Festival; and Kravis Center, FL.
Queen founded and produces the Annual Willingboro Kwanzaa Festival and is featured in local newspapers and on Fox Television every year during the Kwanzaa season. She is the Director of the Folklife Center at Perkins Center for the Arts, Roster Artist with Theatreworks USA and a Creative Consultant Teaching Artist with Young Audiences of New Jersey and Eastern Pennsylvania.
Queen founded In FACT: Innovative Solutions Through Folk Art, Culture and Tradition, a cultural sustainability organization that produces workshops and events designed to create opportunities for civic engagement through folklife traditions. Queen is a winner of the MidAtlantic Artist-As-Catalyst Award; the NSN Brimstone Grant; and several leadership awards. Queen has two CDs, Parent's Choice Winner, "Sweet Potato Pie and Such", and "Live and Storified." She has an MA in Cultural Sustainability at Goucher.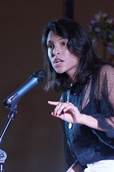 Carolina Quiroga-Stultz is a bilingual Storyteller, performer and podcaster, who graduated in 2013 with a Masters in Storytelling from East Tennessee State University (ETSU). Her large repertoire of bilingual stories, explores the Native and Afro-Latin American and Hispanic Myths, Legends and Mysteries ranging from El Río Bravo to La Patagonia. On July 31 to Aug 4, 2018 Carolina was a TELLER IN RESIDENCE at INTERNATIONAL STORYTELLING CENTER - Jonesborough, Tennessee.
In early 2019, Carolina's bilingual literary podcast "Tres Cuentos Podcast" dedicated to the traditional narratives of Latin America, was awarded two grants for its continuation by the following organizations: ALTERNATE ROOTS and from NALAC (National Association of Latino Arts and Cultures). Listen to the podcast here: trescuentos.com
On 2014, she was awarded "Outstanding Performer of the Year" by ETSU, and in December 2015 she became the recipient of the "J.J. RENEAUX EMERGING ARTIST GRANT" by the National Storytelling Network. On 2016 she became a Teacher Artist part of the Wolf Trap Institute for Early Learning through the Arts, a recognized national model for utilizing the performing arts to support young children's cognitive, emotional, and physical development and school readiness.
https://www.carolinastoryteller.com/

Tim Tingle is an Oklahoma Choctaw and an award-winning author and storyteller. His great-great grandfather, John Carnes, walked the Trail of Tears in 1835, and his paternal grandmother attended a series of rigorous Indian boarding schools in the early 1900's. In 1993, Tingle retraced the Trail of Tears to Choctaw homelands in Mississippi and began recording stories of tribal elders.
Tingle was a featured author and speaker at the 2014 National Book Festival in Washington, D.C., based on critical acclaim for "How I Became a Ghost," which won the 2014 American Indian Youth Literature Award. The next book in the series, "When A Ghost Talks, Listen," will be released June 24, at the National Museum of the American Indian in Washington, D.C., and June 26 at the American Library Association Conference in Orlando.
His first children's book, "Crossing Bok Chitto," garnered over twenty state and national awards, and was an Editor's Choice in the New York Times Book Review. In June of 2011, Tingle spoke at the Library of Congress and presented his first performance at the Kennedy Center, in Washington, D.C. He received his Masters Degree in English Literature at the University of Oklahoma in 2003, with a focus on American Indian studies. While teaching writing courses and completing his thesis, "Choctaw Oral Literature," Tingle wrote his first book, "Walking the Choctaw Road." It was selected as Book of the Year in both Oklahoma and Alaska.
As a visiting author and performer, Tingle reaches audiences numbering over 200,000 annually. He has completed eight speaking tours for the U.S. Department of Defense, performing stories to children of military personnel stationed in Germany. In February of 2016, his novel "House Of Purple Cedar" won the American Indian Youth Literature Award.
https://www.timtingle.com/