Funding partners
MCAC began with a $1 million grant from the Jack Kent Cooke Foundation. MU also provides financial support along with in-kind support to MCAC. Our program continues to enjoy diverse funding support from multiple external funders over the years, to include the funders listed below.
MCAC is grateful to all the funding partners for helping make a difference in the lives of our students with their generous support of our program:
Alden Family Foundation
AmeriCorps State* and AmeriCorps Competitive
Bank of America Charitable Foundation, Inc.
Briar Foundation
College Access Challenge Grant Program
College Bound
Community Foundation of the Ozarks
Dent County Community Fund
Edward F. Swinney Trust, Bank of America, N.A., Trustee*
Give Direct Fund
Greater Kansas City Community Foundation (GKCCF)*
H&R Block Foundation
Hall Family Foundation
Hispanic Development Fund of Kansas City
Jack Kent Cooke Foundation
Kansas City Power & Light
Kauffman Foundation (Ewing Marion)*
Linscomb Foundation (Irven E. and Nevada P.)*
Maxwell Fund (Stanley L.) (GKCCF)
McGee Fund (Frank and Margaret)
Miscellaneous Gifts
Missouri Department of Higher Education (MDHE)
Missouri Scholarship and Loan Foundation*
National Center for Family Literacy (funding provided by Met Life Foundation) (NCFL)
National College Advising Corps*
Rising Above (with John O'Leary)
Smith Education Fund (Edward K. and Beth K.) (GKCCF)
Social Innovation Fund, through the Pathways Fund of New Profit, Inc.
Speas Foundation (Victor E.) (Bank of America)
Sprint Foundation
Stupp Foundation (Norman J.)
Texas Guarantee Public Benefit Program (TG)
The Corps Network
Truman Heartland Community Foundation*
United Way of Greater Kansas City
University of Missouri (MU)*
University of Missouri System (UM)
William T. Kemper Foundation
* Denotes current funding partners.
School partners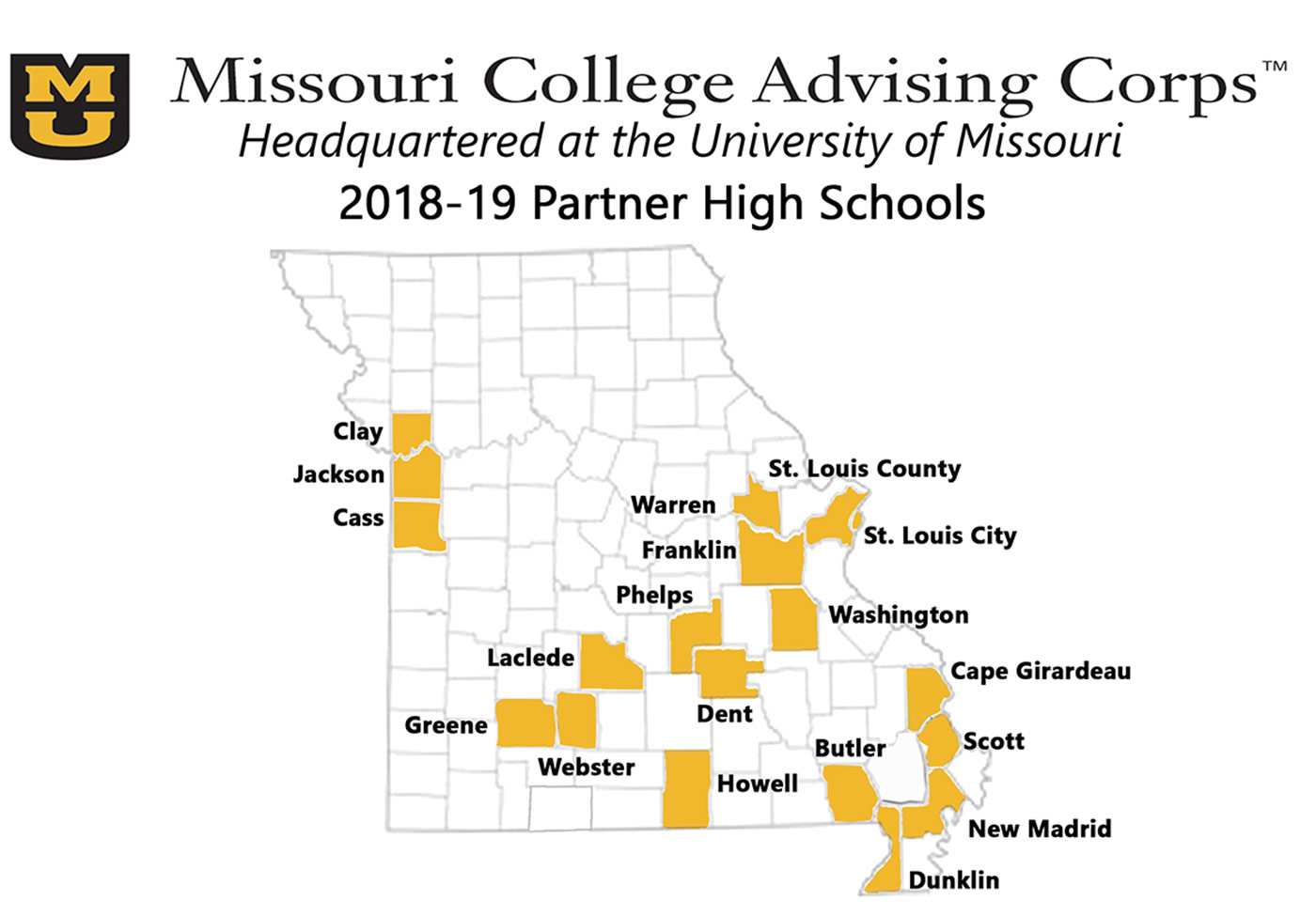 Partner schools are selected on the basis of where college advisers are most needed and can make the greatest impact. A number of factors are considered in combination when selecting partner schools and colleges:
Percentage of students going to college, with priority given to schools with a college-going rate at 10 percent lower than the state average.
Percentage of students eligible for free and reduced lunch, with priority given to schools with 50 percent or greater of students eligible;
Percentage of students taking the ACT, with priority given to schools with an ACT completion rate 10 percent or more less than the statewide average;
Difference in percentage of students taking the ACT and enrolling in college, with priority given to schools with 10 percent or more differential in the two;
Percentage of student populations underrepresented in colleges and universities, with priority given to schools with minority populations more than 20 percent above the state average; and
Percentage of students who would be first in their family to complete college, with priority given to schools located in counties where fewer than 12 percent of the adult population has completed a college degree.
When possible, we attempt to select schools that are not being served by other college access programs.
College advisers are currently serving in these schools and districts:
Show/Hide

Kansas City area

Show/Hide

St. Louis area

Show/Hide

South Missouri