MCAC advisers come from all majors, backgrounds and types of institutions and they serve in a wide variety of schools and community contexts. Despite these many differences, being a MCAC adviser is almost always a defining life experience, personally and professionally. Although most advisers do not have a background in education, over 70 percent of alumni stay in the field through positions or graduate studies in K-12 (teaching, counseling and administration) or higher education (advising, retention services, college access programming and student affairs). After more than 10 years of service to the state, MCAC has over 130 alumni who are now experienced professionals working in positions throughout Missouri, the nation, and the world. Read about a few of our alumni below and if you are an alum, please share your story with us, sign up for our newsletter, and stay in touch.
Alumni advisers, would you like to share your post-MCAC career successes? Tap the button below to contact us and share your story.
Show/Hide

Subscribe to the Missouri College Advising Corps newsletter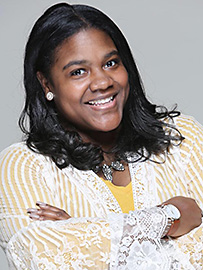 Khallilah Watkins (2012–2013)
High school served: Riverview Gardens High School
Current position: Program Specialist – The Endeleo Institute's Upward Bound
"I learned so much from serving with MCAC although time management and self-advocacy were my greatest takeaways. During my service, I wasn't always as assertive as I needed to be in order to get the resources I needed. This taught me the importance of speaking up for what I needed to complete assigned tasks. I am now a program specialist for The Endeleo Institute's Upward Bound program and I also own a social media agency, The Social Loft. My experience with MCAC taught me how to juggle different tasks and be more efficient."
Liz (Oliver) Jennings (2012-2013)
High school served: Potosi
Current position: Associate Director for College Advancement, Southwestern Illinois College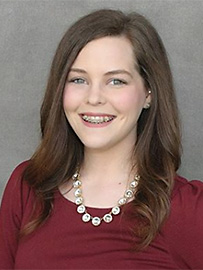 "When I started my post-college life as an MCAC adviser, I was still unsure of my career path. At first I believed I would go back to school to become a high school teacher. After serving in the high school setting, I was certain that teaching was not the right fit for me. Luckily because of the experience I gained with college admissions and financial aid through my MCAC training, I was able to land a job at a university where I worked in admissions while earning my Master's degree in Non-Profit Administration (for free!). My degree and experience in higher education opened the door for me to begin advocating and fundraising for rural community colleges. I feel so blessed to have been selected to serve with MCAC because it truly changed my life and allowed me to find a passion for a career I had never even considered in undergrad. I am currently working at Southwestern Illinois College as the Associate Director for College Advancement. I spend the majority of my time fundraising for student scholarships and managing the college's large scholarship program. Helping to award scholarships to so many deserving students is truly inspiring. I especially enjoy working at the community college level where so many students, at all stages of life, are able to start on a new path towards rewarding careers. SWIC is an especially exciting place for me to be because I get to work with both urban and rural students."
Jeff Perkins (2014-2016)
High school served: African-Centered College Prep (Southeast High School) – Kansas City
Current position: LGBTQ Intercultural Specialist, Ohio State University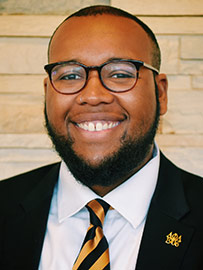 "During my time serving as an adviser, I didn't know what I was getting myself into and it was definitely a job I didn't expect to do after graduating from Mizzou. But it was the absolute best job I've ever had. I feel like I'm always going to say that, no matter what I end up doing. I took from my experience as an adviser to see education as a tool for liberation for marginalized communities. Working in the schools that MCAC partners with, you have many students who are facing some of the same challenges, but are also very different in their own ways. Often, society lumps them together and creates these deficits about their capabilities or potential which can be harmful. But I've seen my students defy what society says about them through applying to college, getting accepted, getting amazing scholarships, and recognized for their brilliance. One thing being an Adviser taught me was that every student, no matter the GPA or test score, deserve the opportunity to have and define success for themselves. That's what my students taught me about my own life as well. I can't believe I am about to have students who are graduating college this year! Being adviser taught me to see things beyond myself and truly give students the tools they need to succeed in college or any postsecondary path."
"MCAC prepared me for the role that I have now, by teaching me what serving students looks like. Being an educator can be hard work, even a little bit isolating. It is a constant battle of trying to support students, but also working with higher education institutions to understand the nature of your work. When people ask me why I chose to study higher education in graduate school, I always tell them my former students decided for me. I saw their needs and experiences, some of them quite similar to my own experiences getting to and through college, and wanted to do everything I could to support them. I believe my time in MCAC helped me give students the tools to define their own success, find community, and develop a strong sense of self-advocacy for themselves as well."
Darius Whitaker (2011-2013)
High school served: Gateway STEM High School, St. Louis
Current position: Coordinator, Office of First Year Experience & Orientation, Ohio State University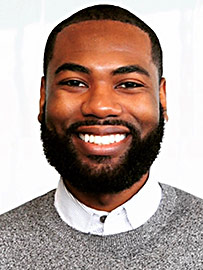 "Serving as a College Adviser changed my life. I enjoyed having the opportunity to assist and build relationships with students who had a very similar background and faced many of the same systematic barriers to success. Those relationships are still present today. My experience as a College Adviser amplified my passion for working with underrepresented populations. The role taught me a myriad of skills of how to advocate and support students who are often unheard. These transferrable skills and more such as data management, public speaking, and event planning has assisted me in my roles after MCAC. I served as the Recruitment and Diversity Coordinator for the College of Engineering at the University of Missouri and presently as one of the Coordinators in the Office of First Year Experience & Orientation at The Ohio State University. Without the skills and the foundational knowledge about higher education and college access I learned while serving as a College Adviser, I would not be where I am right now."