MyPI Missouri (My Preparedness Initiative)
Overview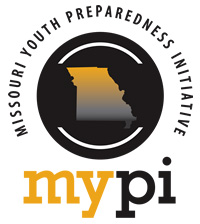 The MyPI Missouri program is for teens ages 13–19 to better prepare their communities, their families, and themselves for responding to emergencies. MyPI participants team up with teens and adult instructors to learn hands-on disaster preparedness, fire safety and suppression, treatment of injuries, light search and rescue, disaster psychology, and more!
The program is offered as an extended 4–H SPIN club for teens interested in emergency management and first responder careers. Teens complete Community Emergency Response Team (CERT) basic training and CPR/AED certification. Add-on components include school safety, extreme weather, and disaster simulation, a well as awareness topics on HAM radio, NOAA weather radio, smoke alarm maintenance, smart phone apps, and use of social media in emergencies.
Applying skills to real life, MyPI participants complete a service-learning project, working with families to develop emergency supply kits and family disaster plans. Teens gain exposure to careers in public safety, fire service, and emergency management.
Participating counties
MyPI Missouri instructors are currently certified by the national MyPI (My Preparedness Initiative) program at Mississippi State University, to offer the program in the following counties: Daviess, Dunklin, Gentry, Grundy, Harrison, Mercer, New Madrid, Pulaski, Taney, and Worth.
Expansion of the MyPI Missouri program to more counties is planned for 2020-21.
Learn more
For more information, please contact
your County Extension Office
, or visit the
MyPI Missouri Facebook page
.