Youth Civic Leaders Summit
March 6–8, 2020
Windermere Conference Center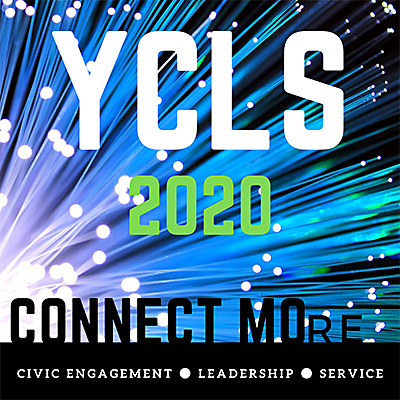 The Missouri Youth Civic Leaders Summit is a statewide energizer for teens ages 14-18 and adult leaders who are active in leadership and service, and want to make a difference in their communities and world!
At the Summit, Missouri 4-H and Missouri Community Betterment teens and adult leaders come together to showcase and learn purposeful teamwork, action, and impact to improve lives in their communities! Program highlights include youth and adult-led keynotes and breakout sessions, high ropes challenge course, team talent showcase, regional networking, team action planning, and mini-seed grants for community projects.
The Summit is designed for teams of teens and adults who represent a local club, council, afterschool program, community group, organization, community, or county. Both new and experienced teams are welcome!
At YCLS, Summiteers do, reflect, and apply the power of youth-adult partnerships to growing leadership and strengthening communities!
Contacts
Show/Hide

Information

Show/Hide

Youth/Adult teams

Participation is by team. Teams are made up of at least two youth ages 14-18 and one adult.
Youth must be ages 14-18 before Jan. 1, 2020.
Adults are team leaders and chaperones (ages 21 & older) for youth from their county/community (Extension faculty, community leaders, teachers, volunteers who actively support youth).
Adult team leaders must complete steps to be an active 4-H volunteer by Feb. 1.
Young adults (ages 19-20) can assist team leaders, but will not chaperone youth.
Team size is from at least 3 (1 adult, 2 teens) to a recommended max of 10 (2 adults, 8 teens). Counties can register multiple teams (4-H, MCB, etc.)

Show/Hide

Location

Windermere Conference Center is a world-class camp and conference center, 15 minutes south of Camdenton off Hwy. 54, in the heart of Missouri's Lake of the Ozarks region. The conference center his home base for YCLS.

Show/Hide

Cost

Youth registration is $170. Includes Friday/Saturday night lodging, Friday dinner to Sunday breakfast, t-shirts, materials, recreation (except EDGE challenge course) and all weekend activities. EDGE challenge course participants add $25.

Adult registration is FREE. One adult chaperone per team can register for the first 2-5 youth registrations. Teams with 6+ youth can register a second adult chaperone FREE.

Show/Hide

Lodging

Lodging for YCLS includes deluxe accommodation rooms with 5 beds/1 bath – youth with youth, adults with adults. Roommate preferences may be made at registration. All rooming arrangements are made prior to the event, and are final. Families do not need to contact Windermere to reserve rooms.

Show/Hide

What to bring

Dress code for the weekend is casual. Summiteers will receive a packing list, dress code, school absence request letter, code of conduct, and chaperone information at least two weeks prior to the event

Show/Hide

Check-in

Team check-in is Friday, March 6, from 4:00-5:00 p.m. Teams should plan to arrive by 5 p.m. for check-in, and dinner from 5:30-6:00 p.m. A required meeting for all adult chaperones will be from 6:15-7:00 p.m. Opening assembly is Friday 7:30 p.m. and last assembly finishes at 11:00 a.m. on Sunday.

Show/Hide

Refunds, cancellations, or substitutions

If a cancellation/refund is requested, contact the conference organizers immediately. Refunds for cancellations will only be made until Feb. 1.

If a substitution is requested, contact the conference organizers immediately. Counties may request male-for-male or female-for-female substitutions no later than Feb. 15, for the same roommates and program selections as the original registrant.

Show/Hide

Registration

4-H youth & adults: contact your county 4-H staff about a team of teens/adults for YCLS 2020!
Individually register in 4-H Online until Feb. 1, 2020.
Counties: add youth/adults to the Summit Team Roster (DOC) and submit via email by Feb. 1.
Youth registration is $170 – includes Fri/Sat lodging, meals, conference materials, and most recreation. EDGE Course option is $25 extra.
Adult registration is FREE – one adult chaperone for the first 2-5 youth per team. Teams with six or more youth can register two adults FREE.
Questions? contact Becky Simpson, 660-663-3232, Teresa Snyder, 660-888-7022, or Sarah Massengale, 573-729-3196
See you at the Summit!