October 5th, 2019
Farot Field
Columbia, MO
Join us for 4-H Day at Farot Field on October 5th as the Mizzou Tigers take on Troy!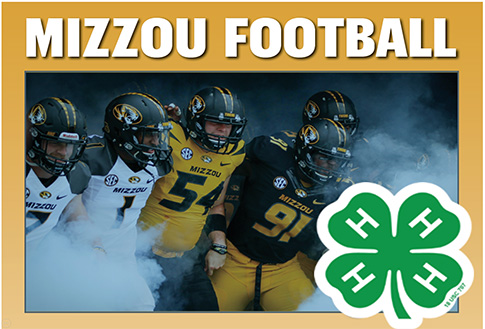 4-H families will fill the stands on Saturday, October 5, at MU Extension and 4-H Day at Memorial Stadium as the Mizzou Tigers take on the Troy Trojans. This year's tailgate party will be at the Hearnes Field House, right across from the stadium! An entire block of lower bowl seats are reserved in Section 101 for the first 800 people to register, with the closest seats going to the earliest ticket purchases. Once registered, you will receive information on parking options for Mizzou fans. (Note: No parking is available this year at the 4-H Center.) When you register, be sure to select the 4-H purchasing option, for a free 4‑H/Mizzou T-shirt with each ticket purchased.
See you at the game!