Vazquez Commercial Contracting, LLC – Kansas City
Published:

Monday, July 17, 2017
(This story originally ran in 2013)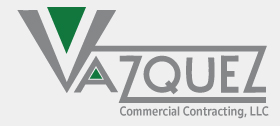 Joe Vazquez, president and CEO of Vazquez Commercial Contracting, LLC, wasn't thinking about construction.
Over ten years ago, Joe Vazquez, president and CEO of Vazquez Commercial Contracting, LLC (VCC) in Kansas City, left his job as an accountant to work for his father-in-law in construction. Not long after, Vazquez decided to step out and start his own contracting company. VCC was officially launched in 2008. Now, 11 years later, it is on track to become a $50 million company.
Vazquez began unsure of how to establish his new startup. He went to workshops and luncheons where he discovered just how many opportunities there were for minority-owned businesses. This encouraged him to keep attending networking events and seminars, where he was eventually introduced to the Missouri Procurement Technical Assistance Center (PTAC) at the University of Missouri-Kansas City.
Interested in many services PTAC offers, Vazquez met with center director, Michelle "Shelly" Cunningham. She was able to provide Vazquez with training and information, which assisted him in knowing what questions to ask. He learned how to better identify government-industry codes, understand and write bid solicitation responses, recognize the importance of capability statements, identify prime suppliers with good reputations, and know how to utilize PTAC's bid matching service.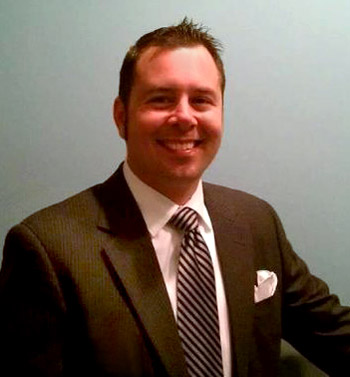 Joe Vazquez, president and CEO, Vazquez Commercial Contracting
Once VCC got moving and hit their first $1 million, their opportunities skyrocketed. In 2013, Vazquez said with hopefulness, "I think we could be a $20 million company." That aim was achieved just a few short years later in 2016, and has expanded even more since then. "My next goal is $100 million- why not?" Vazquez said. "Every year we've had tremendous growth, and we continue to grow."
VCC has scaled so much that the company is starting to catch the eye of bigger organizations. In 2017, it was named the number one business on Ingram's Corporate Report 100 for the most growth. Just this year, Vazquez was presented with the Jesse Flores Hispanic Business of the Year award from the Hispanic Chamber of Commerce of Greater Kansas City. VCC has expanded to having three offices around the country, with additional locations in St. Louis, MO and Holland, MI, as well as 26 IDIQ contracts and 85 employees. Its services have also expanded to include mechanical and electrical divisions, opening up even more opportunities for growth.
Developing so quickly can be hazardous, though. Taking on more projects means needing to hire more employees to do the work. VCC has gone from five employees to close to 90 in six years, and hiring has been a struggle at times. "All it takes is one bad evaluation," Vazquez admitted. "It'll put you five steps back." Luckily, through connections and employee referrals, his team has grown to be "phenomenal."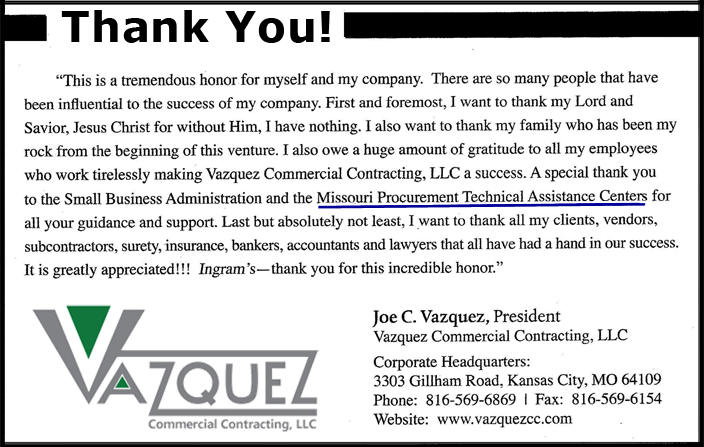 Vazquez's ad from Ingram's thanking those who have helped contribute to the firm's success.
Despite being in business for over a decade, VCC still takes advantage of PTAC's bid matching program every year, which saves tons of time. Vazquez has also kept in contact with Cunningham, who continues to send him new information, answer questions, and help with whatever needs to be done. "Here I am, $150 million in government contracts later, and there are still times when I need her help with certain things," he said. "If she doesn't know the answer to something, she'll find it within 24 hours and get back to me… She is such a true advocate for small business. She is genuinely thrilled to see our business grow."
As VCC looks to the future, Vazquez is optimistic. He hopes to continue to add on more government contracts and increase profit, of course, but he also enjoys working with and mentoring joint ventures and other small businesses. "All I can do is thank God," he said. "He opened up the doors and I'm just lucky enough to walk through them. Where our business is now, it's just the beginning."
Use Tab key to loop through the section below. Press Enter or Space to enter content for each tab button. Press Esc key to exit and to go to the next section at any time.
Extension resources