The University of Missouri Extension to bolster fire prevention efforts with FM Global grant
Published:

Monday, April 11, 2016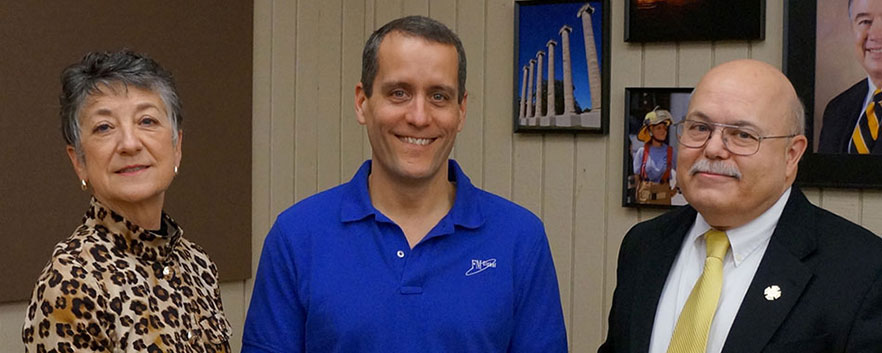 Engineering Specialist James Rauba (center) presents a certificate and check to the University of Missouri Fire and Rescue Training Institute from FM Global to support a fire prevention education and training project. Also pictured: Dr. Jo Turner, Interim Vice Provost for Extension (left) and David Hedrick Director MU FRTI (right).
The University of Missouri Extension has received a $3,500 fire prevention grant from FM Global, one of the world's largest commercial property insurers.
FM Global representatives presented the award to the University of Missouri Fire and Rescue Training Institute (MU FRTI) at their offices on the MU Columbia Campus located at 1110 S. College Avenue in Columbia, MO. The award will be used to assist with the training of Missouri firefighters in fire cause determination and arson awareness. This will assist local jurisdictions in more effective determination of fire cause, investigation, and analysis of community fire risk.
Because fire continues to be the leading cause of property damage worldwide, during the past 35 years FM Global has contributed millions of dollars in fire prevention grants to fire service organizations around the globe. Locally, the company has awarded grants to a number of Missouri-based organizations.
MU FRTI's Director, David Hedrick, said: "The Institute gratefully acknowledges the grant funding provided by FM Global to support this important fire prevention education/training project. The partnership between FM Global and MU FRTI will enable accessible quality training to Missouri's Fire Service."
"At FM Global, we strongly believe the majority of property damage is preventable, not inevitable," said Michael Spaziani, manager of the fire prevention grant program. "Far too often, inadequate budgets prevent those organizations working to prevent fire from being as proactive as they would like to be. With additional financial support, grant recipients are actively helping to improve property risk in the communities they serve."
Through its Fire Prevention Grant Program, FM Global awards grants quarterly to fire departments—as well as national, state, regional, local and community organizations worldwide—that best demonstrate a need for funding, where dollars can have the most demonstrable impact on preventing fire, or mitigating the damage it can quickly cause.
Use Tab key to loop through the section below. Press Enter or Space to enter content for each tab button. Press Esc key to exit and to go to the next section at any time.
Extension resources