Overcoming Obstacles, Finding Life's Passion
Reigning National Teen Miss United States Agriculture credits 4-H with her success
Published:

Tuesday, Feb. 16, 2021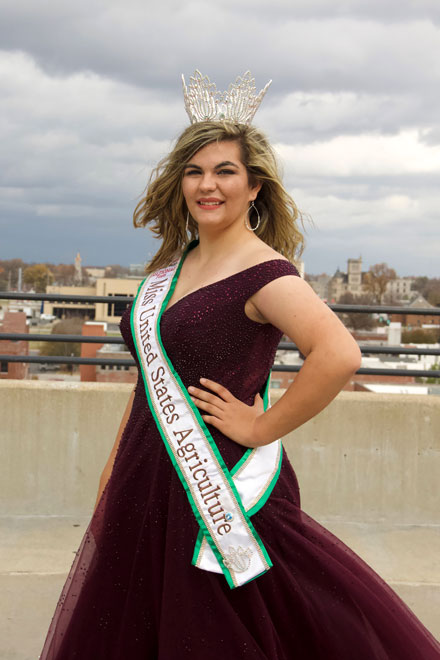 Maya Hufman, Greene County 4-H member and reigning National Teen Miss United States Agriculture.
As the reigning National Teen Miss United States Agriculture, Greene County 4-H member Maya Hufman has the privilege of speaking to thousands, educating audiences about agriculture. But just a few short years ago, the teen was so shy and reserved she rarely spoke in front of others.
Born in Las Vegas, Maya always had a fascination with animals and agriculture. However, growing up in in a subdivision that had a postage-stamp sized backyard, there were limitations. Her mother, Dawn, came from a farm family, and she worked with Maya and her brother, Micah, to raise a bunny to learn the basics of agriculture. When the family moved to Springfield, Dawn quickly introduced the children to 4-H.
"I was involved in 4-H as a kid," Dawn said, "so I knew what a growth experience it was to raise animals and do 4-H projects as a child. It really builds a sense of responsibility and character."
In Missouri, Maya and Micah started raising and showing backyard chickens and ducks, then added rabbits. They both won awards for their animals and showmanship skills. They earned leadership roles in their 4-H club, the Shooting Stars of Springfield, as well as the Greene County 4-H Teen Council. They did projects beyond agriculture, learning about baking, sewing, arts and crafts, expanding their interests. Micah added small engine repair, entomology, and welding.
Maya had a dream to work with cattle. Casey Stiles, the founder of the Shooting Stars 4-H club, worked with Maya, introducing her to her own cattle. At church, Maya met a rancher who raised Red Angus and was looking for someone to work with his cattle and show them. Maya jumped at the opportunity, and quickly learned how to care for cattle, raise calves, and show the animals. She became a champion showman in cattle as well.
"The experience of working with cattle has been incredible," Maya said. "It's been amazing to see them develop and meet all of the great people who raise cattle."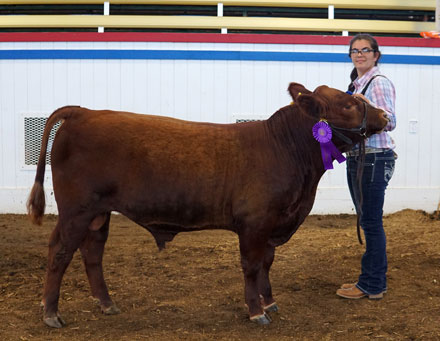 Maya Hufman, Greene County 4-H member and reigning National Teen Miss United States Agriculture, competes at Missouri State Fair with her Red Angus.
Before her involvement in 4-H, Maya would never have considered entering the Miss Teen United States Agriculture competition. In her current role as a national queen, Maya does many public presentations. She credits her 4-H experience with helping her overcome obstacles. "I have a stutter, so public speaking isn't the easiest thing for me, but I love doing it. 4-H gave me countless opportunities to practice and get used to projecting my voice and speaking in large groups. I have also been able to compete at speaking competitions which have helped me learn about myself, and helped me find my style of speaking."
Maya also credits 4-H with helping her gain confidence, improve her communication and social skills. "I really came out of my shell when I started showing livestock. 4-H has encouraged me to jump right into new things, and try everything. I learned it was okay to make mistakes, I learned to learn from my mistakes! My experience with 4-H has been incredible, life changing really. It has set me on a path for my future."
For Maya, raising cattle has helped her develop skills that she hopes to use for the rest of her life. She plans to go to college to study agriculture and politics, working to advocate for farming and ranching. Through 4-H, she went to the Missouri capital and learned about government first hand, working directly with state leaders. Maya's family has fostered several children, so starting a ranch to provide foster children a place to have positive experiences with animals and learn new skills is also a goal.
The Shooting Stars club has been a place to learn about others with different backgrounds. Stiles created the club for families with children with special needs. The club is known for working with families of a variety of backgrounds, including children with autism, Asperger's, ADD, ADHD, and sensory processing issues.
Maya and Micah's little brother, Zeke who is 5, has taken part in 4-H for as long as he's been able to attend club meetings. "For our family, 4-H truly has been life changing," Dawn said. "The support from 4-H leadership in Missouri and especially the Shooting Stars club and Casey has been outstanding. Our children have been incredibly well served and prepared through 4-H."
Maya now mentors younger 4-H members, helping them find their passions through 4-H the way she found hers. "4-H shaped me, my ethics and morals, who I am as I person. 4-H gave me a way to get better in whatever I do, and also gave me a way to share my passion. Through 4-H I gained mentors and became a mentor to others. I've been able to watch the kids who watched me as a leader, a showman, and a herdsman, kids I have been able to speak into, become better than me. I wouldn't be where I am today without 4-H."
As America's largest youth development organization, 4-H offers youth, families, and adult volunteers of all ages many ways to engage, grow and serve – through clubs, camps, contests, conferences, special interest groups, in-school and afterschool programs, and more! It's about young people making new friends and memories while preparing to be future leaders – from both rural and urban areas. For more information on how to get involved in 4-H, visit the Missouri 4-H website: https://extension2.missouri.edu/programs/missouri-4-h/get-involved-with-4-h or contact your local county Extension Center.
Writer: Karla Deaver
Use Tab key to loop through the section below. Press Enter or Space to enter content for each tab button. Press Esc key to exit and to go to the next section at any time.
Extension resources