New Region C training coordinator appointed at MU FRTI
Published:

Thursday, July 11, 2019

Region C Training Coordinator: Aaron Bockhorst of Union, Missouri.
Director Kevin D. Zumwalt of the University of Missouri Fire and Rescue Training Institute (MU FRTI) is pleased to announce the appointment of a new Regional Training Coordinator for Region C, Aaron P. Bockhorst of Union, Missouri. Regional training coordinators are essential to the Institute's mission in providing comprehensive continuing education and training to the fire service and emergency response personnel in Missouri. Coordinator Bockhorst will be responsible for the counties of St. Louis, Jefferson and Franklin.
Aaron P. Bockhorst is a Captain and EMT for the City of Ferguson Fire Department and is currently the president of the North St. Louis County Training Consortium, an instructor for the St. Louis County Fire Academy and the program director for the Jefferson College ATS Fire Science program. Aaron started his career in the fire service as a volunteer firefighter and EMT in 1996. He has nine years of experience developing training curriculum, lecturing and teaching practical skills, and supervising a staff of emergency service instructors. He has many certifications and has been awarded the Missouri Gold Medal of Valor in 2015, the City of Ferguson Life Saving Commendation in 2006, 2010 and 2019, and the Greater St. Louis County Fire Chiefs Association's, Unit Life Saving Citation in 2018. Aaron has a long history with MU FRTI and upon accepting the position had this to say, "Since my start in the fire service I have seen the importance of education and training. I attended my first Winter Fire School at sixteen and I have never stopped training and attending classes. MU FRTI has been a vital asset in making me the firefighter and instructor I am today. I look forward to taking on this new role." MU FRTI would like to welcome its newest member of the team and looks forward to Aaron's continued work with the Institute in this new capacity.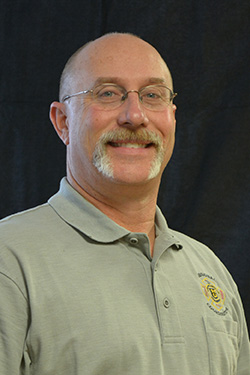 Retired Region C Training Coordinator Jeffrey Broombaugh.
Coordinator Bockhorst fills the vacancy left by the retirement of MU FRTI Regional Training Coordinator Jeffrey Broombaugh, Chief of the Rock Community Fire Protection District. Jeff has served as a Regional Training Coordinator for Region C since 2009. Director Zumwalt said, "Jeff has been instrumental in coordinating training activities for the Institute in the region and his contribution has directly resulted in the enhanced safety and protection of our citizens, state, and nation."
Region C is also served by two other Regional Training Coordinators: Michael Cherry for the counties of St. Charles, Lincoln, Pike and Warren; and Marty Schuessler for the counties of Perry, Ste. Genevieve, Washington and St. Francois.
Use Tab key to loop through the section below. Press Enter or Space to enter content for each tab button. Press Esc key to exit and to go to the next section at any time.
Extension resources