New aircraft rescue fire fighting specialist announced
Published:

Wednesday, Feb. 5, 2020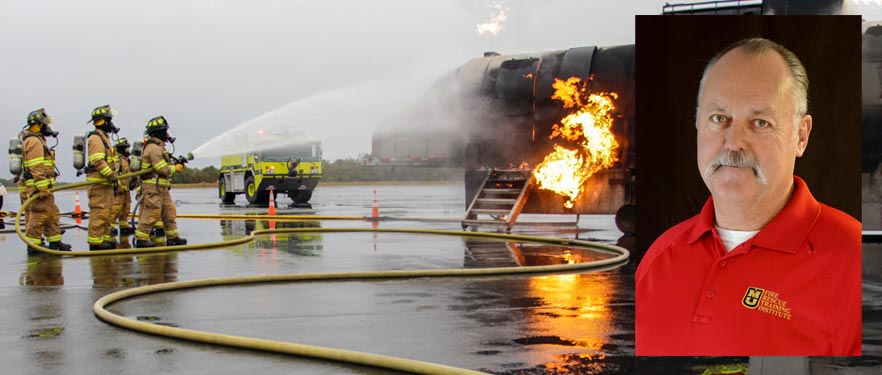 Director Kevin D. Zumwalt of the University of Missouri's Fire & Rescue Training Institute (MU FRTI) has announced the appointment of a new Aircraft Rescue Fire Fighting (ARFF) Specialist for the Institute, Mr. Michael Lloyd of York, Nebraska. The ARFF Specialist position manages the program that oversees the highly specialized training area related to aviation fire protection and safety. MU FRTI is a premier unit of Extension at the University and is charged with the responsibility for providing comprehensive continuing education training to Missouri's fire service and emergency response personnel. MU FRTI provides training for over 15,000 firefighters and emergency responders each year.
Mr. Lloyd is a former Fire Chief, City of York (NE). He is a veteran of the United States Air Force serving for 4 years on active duty and 28 years as a firefighter. Lloyd is a graduate of Bellevue University and is IFSAC certified Fire Officer III, Fire Instructor III, Inspector III, Airport Firefighter, HazMat Tech, Driver Operator and Firefighter II. Mike is also a registered EMT.
Regarding Lloyd's appointment as the Aircraft Rescue Fire Fighting Specialist, MU FRTI Director Zumwalt said, "Mike has a long history of ARFF and other firefighting experience. He has a proven record of devotion to training, as demonstrated from his work with the Nebraska Society of Fire Service Instructors and the International Society of Fire Service Instructors. We look forward to Mike's leadership in the ARFF program."
Sources
Kevin Zumwalt
573/882-4349
Use Tab key to loop through the section below. Press Enter or Space to enter content for each tab button. Press Esc key to exit and to go to the next section at any time.
Extension resources