New aircraft rescue fire fighting specialist announced
Published:

Thursday, Nov. 1, 2018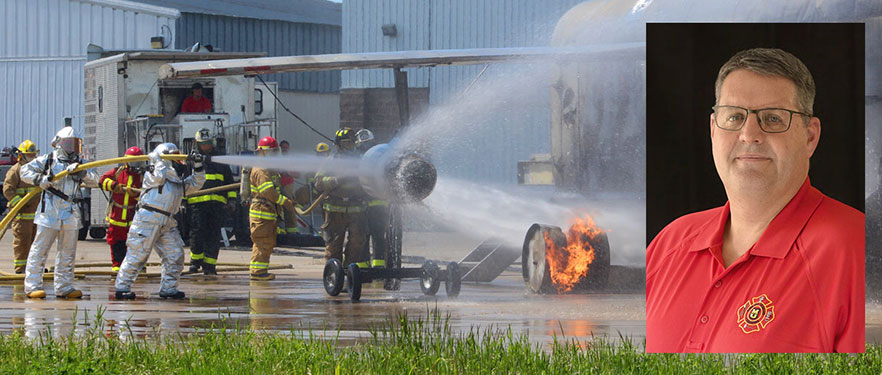 Director Kevin D. Zumwalt of the University of Missouri's Fire & Rescue Training Institute (MU FRTI) has announced the appointment of a new Aircraft Rescue Fire Fighting (ARFF) Specialist for the Institute, Bruce Bjorge of Branson, Missouri. The ARFF Specialist position manages the program that oversees the highly specialized training area related to aviation fire protection and safety. MU FRTI is a premier unit of Extension at the University and is charged with the responsibility for providing comprehensive continuing education training to Missouri's fire service and emergency response personnel. MU FRTI provides training for over 13,000 firefighters and emergency responders each year.
Bjorge is a former Fire Training Coordinator with Lexipol LLC where he managed program policy and procedures related to the fire service. He is a former Assistant Chief of the Training Division with Western Taney County Fire Protection District in Branson, MO. Bruce has also served as Adjunct Faculty with MU FRTI since 2001. Bjorge is a graduate of the National Fire Academy's Training Program Management, and is a certified Missouri Division of Fire Safety Fire Service Instructor II and Live Fire Instructor.
Regarding Bjorge's appointment as the Aircraft Rescue Fire Fighting Specialist, MU FRTI Director Zumwalt said, "Bruce has been a long time active Adjunct Instructor for MU FRTI and has helped with a number of special projects for the Institute. He has a proven record of excellence in training, and his part-time work with the ARFF program has been a great asset to the Institute. We look forward to Bruce's continued work with the Institute in this new capacity."
Specialist Bjorge fills the vacancy left by the retirement of MU FRTI ARFF Specialist Mark Lee of Columbia, Missouri. Specialist Lee has been with MU FRTI since 1996 initially coordinating industrial emergency response training including hazardous materials, fire brigade principles, and site specific needs. Specialist Lee was responsible for founding the firefighting aviation program at MU FRTI in 1999. Director Zumwalt said, "Mark has been instrumental in developing and managing the training activities for the Institute in the highly specialized area of aircraft fire fighting and rescue operations. His contribution has directly resulted in the enhanced safety and protection of our citizens, state, and nation."
Use Tab key to loop through the section below. Press Enter or Space to enter content for each tab button. Press Esc key to exit and to go to the next section at any time.
Extension resources