MFA Incorporated Charitable Foundation provides grant to MU FRTI to support rescue training for grain entrapment incidents
Published:

Monday, April 11, 2016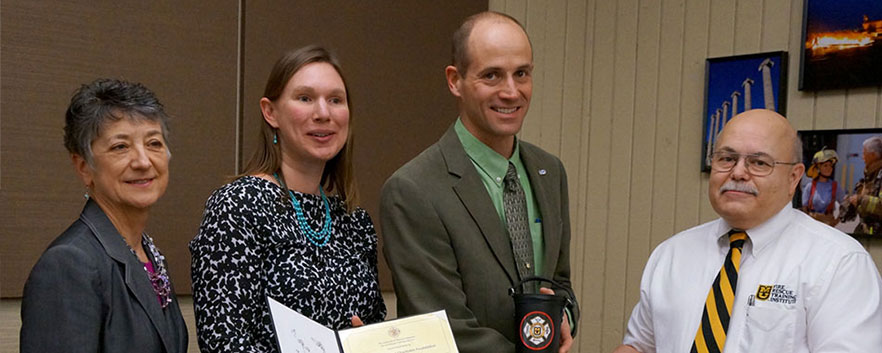 Craig Childs, Sr. Vice President MFA Agri Services, and Erin Teeple, Corporate Services & Human Resources Supervisor (center), presents a check to the University of Missouri Fire and Rescue Training Institute from MFA Incorporated Charitable Foundation to assist in supporting the grain bin rescue training program. Also pictured: Dr. Jo Turner, Interim Vice Provost for Extension (left) and David Hedrick Director MU FRTI (right).
The University of Missouri Extension, on behalf of the University of Missouri Fire & Rescue Training Institute (MU FRTI), recently received a funding grant from the MFA Incorporated Charitable Foundation to support the MU FRTI's Grain Engulfment Rescue Training Program. The MFA Incorporated Charitable Foundation gift to MU FRTI will support specialized training for Missouri emergency responders to grain entrapment and engulfment emergencies. Through this training the first responder will learn about the hazards and issues associated with grain entrapment/engulfment emergencies, and the basic techniques to safely conduct initial rescue operations. Students will apply selected rescue techniques to safely retrieve patients from grain entrapments utilizing a mobile grain bin simulator that is part of the course. Missouri, a part of the U.S. grain belt, has a high percentage of agricultural activity associated with grain production. The activities around and within the grain bins have the potential for entrapment or engulfment that can result in serious injury or death. The local fire departments are the first ones on the scene to deal with these emergencies and need the appropriate training to safely deal with the incident.
A 2010 Purdue University study revealed that the rate of grain entrapments in 2009 increased by 22.5% over the previous five-year average. Other data shows that 61% of grain bin incidents occur at rural farm facilities.
Director Hedrick acknowledged the importance of the Institute's partnership with MFA Incorporated by saying, "MFA has been a significant contributor since the start of the grain rescue program by providing grain for use in the mobile simulator. This funding provided by the MFA Incorporated Charitable Foundation will further enable the program to be more accessible by reducing the course costs to deliver the programs throughout the state."
MFA Incorporated is a Midwest-based regional farm supply and marketing cooperative serving more than 45,000 farmer/owners in Missouri and adjacent states. The cooperative's 145 MFA Agri Services Centers combined with 24 locally owned MFA affiliates and approximately 400 independent dealers deliver products and services to help farmers succeed. The MFA Incorporated Charitable Foundation provides monetary support to worthy community projects for the benefit of its citizens. Special regard is given to donation requests from organizations within areas of MFA Incorporated's business operations, especially those programs for education, youth, and creating better communities.
Use Tab key to loop through the section below. Press Enter or Space to enter content for each tab button. Press Esc key to exit and to go to the next section at any time.
Extension resources