Law enforcement training adapts to COVID-19
Published:

Wednesday, May 27, 2020
COLUMBIA, Mo. – Despite the challenges of COVID-19, the Law Enforcement Training Academy successfully graduated 25 students this spring. The graduates earned peace officer certification as well as certification in 12 other topic areas.
While two of the 25 graduates are waiting for positions to open in their preferred jurisdictions, all the others have already taken jobs in law enforcement and public safety, says John Worden, director of University of Missouri Extension's Law Enforcement Training Institute (LETI).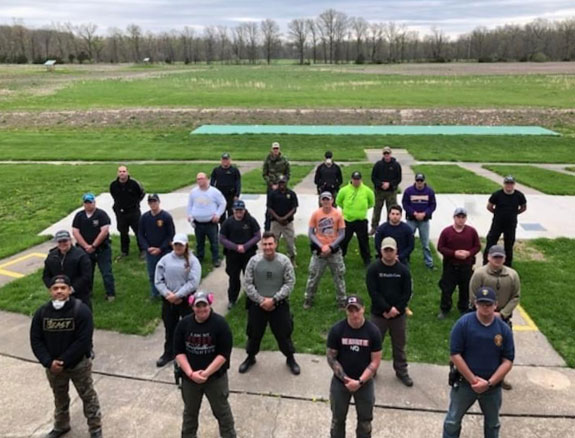 Students in the Winter 2020 Law Enforcement Training Academy.
The academy fills a critical need. Many students arrive with jobs already lined up; their employers pay the tuition in return for the recruit agreeing to work for them for a certain amount of time. During the semester, Worden regularly fields calls from departments looking for promising candidates.
In addition to the academy, LETI provides advanced law enforcement training as well as first-of-its-kind programming in animal cruelty investigations. Graduates from all 50 states and Canada go on to serve public safety agencies at the local, state and national levels, Worden says.
The academy's curriculum includes classroom work that could be reformatted for remote learning when COVID-19 restrictions went into effect in March. But an integral part of the academy is practical, hands-on training on topics that Worden says can't be taught as effectively online, such as traffic stops, building searches, firearms and several practical role-playing scenarios.
It looked like the remaining hands-on training might have to wait until May—bad news for students who already had jobs waiting for them when they graduated. However, the state designated the academy a critical infrastructure workforce development program. In early April, the hands-on training—already fast-paced—resumed on a compressed timetable.
The summer 2020 academy, which started May 18, combines online and in-person training. A new classroom space, at the former site of MU Extension's publications warehouse on Maguire Boulevard in Columbia, offers enough room for all 28 students to sit well apart from one another. Any time face-to-face classes are conducted, the 28 students have their temperatures checked and answer questions to identify possible COVID-19 risks, Worden says.
By the end of August, students will have received almost 700 hours of instruction—well above the 600-hour minimum required for peace officer certification in Missouri.
Learn more about the MU Law Enforcement Training Institute at LETI.missouri.edu.
Writer: Curt Wohleber
Use Tab key to loop through the section below. Press Enter or Space to enter content for each tab button. Press Esc key to exit and to go to the next section at any time.
Extension resources