Lake Recharge and Fire Equipment LLC. – Eldon, MO
Published:

Monday, July 8, 2019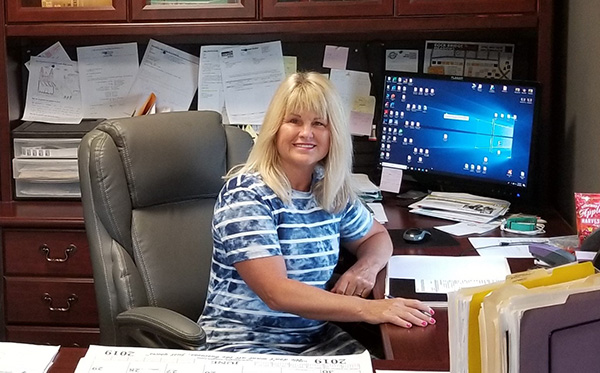 Lake Recharge and Fire Equipment LLC. in Eldon, Missouri has served the mid-Missouri area for over twenty years. The company services and sells fire and safety equipment. For the most part, their typical clients have been businesses, but they are receiving an increasing amount of work from the government and Nancy Graham, owner of Lake Recharge, says she loves it.
Graham opened Lake Recharge in January of 1997 after she decided to leave behind what she describes as "a man's world."
"It seemed like I had to do double the work to get what others were getting," she recalls. "So, I decided not to play that game. I thought, 'I'm doing all this work for someone else when I could be doing it for myself instead.'"
She had previously worked at a company that specialized in fire and safety equipment, so Graham says that she was aware of the need for such hardware. Additionally, there was very little competition in the Lake of the Ozarks region, where she was hoping to relocate. After six months of dedication and hard work, Lake Recharge began serving the lakeside area.
Originally, the business only maintained and sold fire extinguishers. Throughout the years, they expanded their services to offer other necessities, such as exit emergency lights, fire alarms, smoke detectors, fire pumps, and hood systems for restaurants.
Eventually, Graham received her Women Business Enterprise (WBE) Certification and decided to apply for her 8(a) Certification. In August of 2017, she was directed to the Missouri Procurement Technical Assistance Center (PTAC) in Columbia, Missouri. There, she met Jana Weitkemper, who was working as a Procurement Specialist at the time. Weitkemper would later became the Statewide Director of the Missouri PTAC program in 2018.
Weitkemper walked Graham through the certification process. During their meetings, she suggested that Graham consider becoming a federal contractor.
"Jana introduced me to that world," explains Graham. "And once we cracked that door, we wanted to continue because it was such an enjoyable experience."
Weitkemper assisted Graham with her System for Award Management (SAM) registration and provided her with resources to get started, including leads on potential contracts. Graham also received help preparing her first bid.
Their efforts were rewarded a month later, when Graham received a contract from the National Park Service to install a fire suppression and alarm system at a historical sight in Eminence, Missouri. The contract allowed Lake Recharge to grow rapidly.
"We saw between a twenty-three and twenty-seven percent increase almost immediately," she says.
Graham also says that the contract created an opportunity for Lake Recharge to mature and become a more professional entity. And while the process was challenging, she says she always knew that she could turn to Weitkemper with her questions.
"Jana's so helpful," exclaims Graham. "She was always right here for me."
The help that Graham received has paved the way for Lake Recharge to continue working with the state and federal government. The company has received contracts from the State of Missouri, St. Charles County, the Air Force, the Army, and several school districts.
This influx of government work has tilted the scale, Graham says, so that Lake Recharge is primarily working with government agencies. In the future, she is hoping to receive more contracts because the government is organized and she knows what to expect in their interactions. She adds that these interactions have always been pleasant and rewarding.
For businesses interested in establishing their own relationships with government agencies, Graham recommends going to a local PTAC center. She believes that the guidance offered at these centers is the key to becoming a federal contractor.
"I'm glad that there's an organization like this," she says. "It's a big plus for Missouri because small businesses make the world go round and it's always good to have that helpful hand right beside you."
Use Tab key to loop through the section below. Press Enter or Space to enter content for each tab button. Press Esc key to exit and to go to the next section at any time.
Extension resources