Hot bull sale - cold night
Published:

Tuesday, Oct. 27, 2020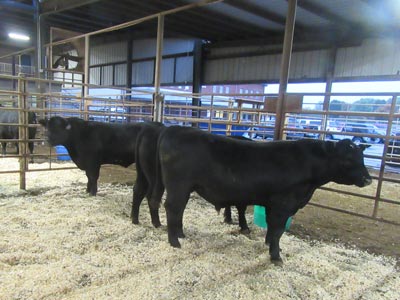 Angus bulls waiting for the Tested Bull Sale at Springfield.
Mt. Vernon, MO – Despite temperatures huddling around freezing and a cold rain falling all day, the 96th All-Breed Performance Tested Bull Sale was a hot one. The 30 bulls averaged $3,787 which was the best since March 2016.
The prices ranged from $2,400 to $5,800. The top price wasn't attained until the 28th bull came into the ring. Consignor of the sale topper was Blue Mound Angus, Sheldon Swartzentruber, Eldorado Springs. The Angus bull was a son of SydGen Enhance and the buyer was Edward Kropf, Eldorado Springs. The bull had an impressive set of EPDs (Expected Progeny Difference) with percentile ranks in the single digits for weaning weight, yearling weight & $Wean and $Beef plus he is eligible as a Show-Me-Select sire for calving ease.
Not only was Enhance the sire of the top seller, the second high bull of the evening was also by him at $5,700. That bull was a Blue Mound Angus, Fred Swartzentruber, Eldorado Springs entry. Altogether, there were five Angus bulls that sold for $5,000 or more. The 28 Angus averaged $3,804.
The two Gelbvieh entries averaged $3,550 with the top bringing $3,600. The owner of both was Witt Cattle, L.D. Witt, Eldorado Springs. The buyer was Orvil Maples, Aurora.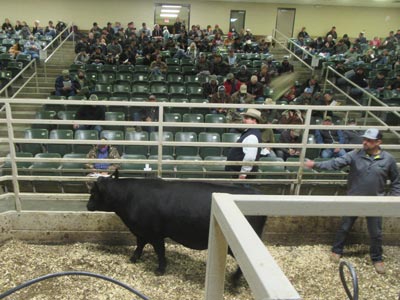 The third bull from the end of the sale topped at $5,800.
The bull sale is sponsored by the Southwest Missouri Beef Cattle Improvement Association in cooperation with the University of Missouri Extension Field Specialists in Livestock in southwest Missouri. The twice yearly sales are held at the Springfield Marketing Center just west of Springfield on the north side of I-44.
Details of the rules for the sale may be obtained from the Extension specialists or contact Phoebe Wiles, sale manager via www.swmobcia.com. The next sale is set for March 29 with entries due in early January.
Writer: Eldon Cole
Use Tab key to loop through the section below. Press Enter or Space to enter content for each tab button. Press Esc key to exit and to go to the next section at any time.
Extension resources