Free Seasonal and Simple app
Published:

Tuesday, Aug. 8, 2017
Reviewed Date:

Thursday, July 26, 2018
The Seasonal and Simple smart phone application is available for both iOS and Android devices. The application is free to download.
The application is based on the MU Extension publication, "Seasonal and simple: A guide for enjoying fresh fruits and vegetables." The Seasonal and Simple app offers information on a variety of vegetables and fruits that are grown in Missouri, including familiar produce such as apples and broccoli, as well as some that you might not know what to do with, like okra and kohlrabi. It has a chart to show you when each item is in season locally. The app also provides nutritional information and explains how to select and prepare the fruit or vegetable, including what parts are edible and how to store each part.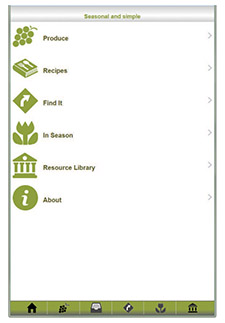 Both the hard copy and the online/app version have a variety of serving suggestions and recipes for each vegetable or fruit. They include hot and cold options and a mix of cooking methods. Most recipes are pretty simple to make. You can watch Chef Brook Harlan demonstrate four of the recipes — links are listed under "Food Demo Videos" at http://missourifamilies.org/nutrition/recipes/seasonalsimple/. Chef Harlan shows the basics of preparing and cooking the foods. He also talks about how to expand your skills and experiment with recipes and techniques with other vegetables and fruits.
The app has an additional "Find It" feature that enables consumers to find farmers markets in or near each Missouri county.
Download the free Seasonal and Simple app and have it with you on your phone or other device at your local farmers market, produce stand or grocery store to know what the perfect fruit or vegetable should look, feel and smell like before you purchase it. You can pick a recipe while you are at the market and get all the ingredients you will need in one trip. Then go home and enjoy your fresh produce in a simple meal or snack.
To obtain Seasonal and Simple:
Search for 'Seasonal and Simple' in your device's app store to download the free application

The online version is available

The printed guide can also be ordered online , or purchased from your local Extension office.
Author
Janet Hackert
660-425-6434
Use Tab key to loop through the section below. Press Enter or Space to enter content for each tab button. Press Esc key to exit and to go to the next section at any time.
Extension resources