Cattle benefit from shade
Published:

Wednesday, June 9, 2021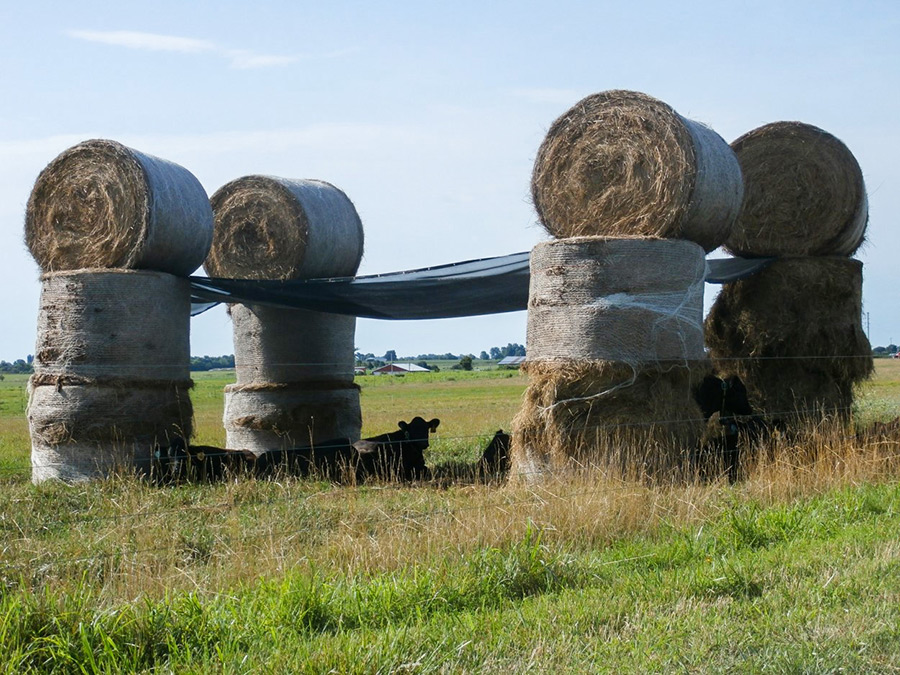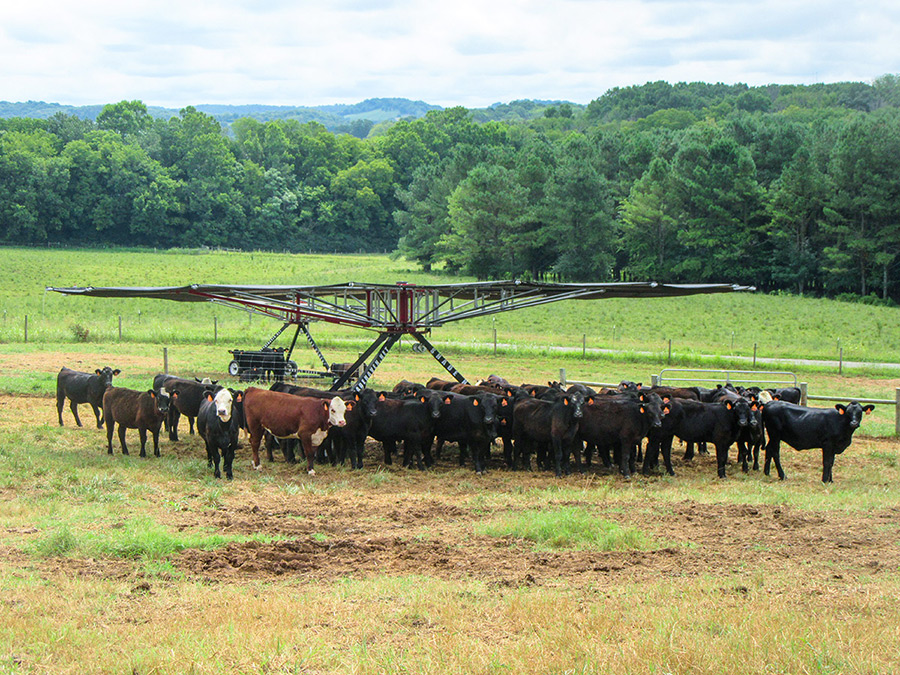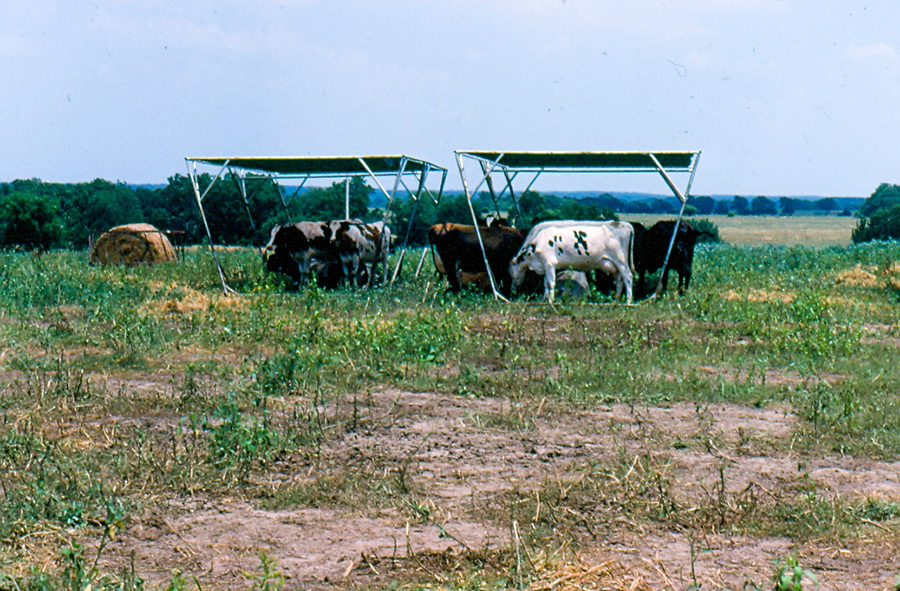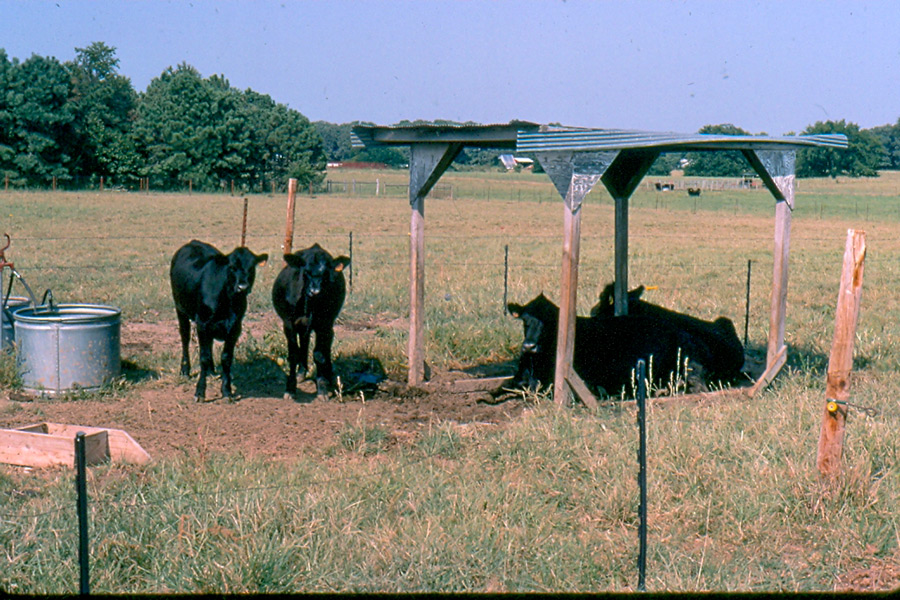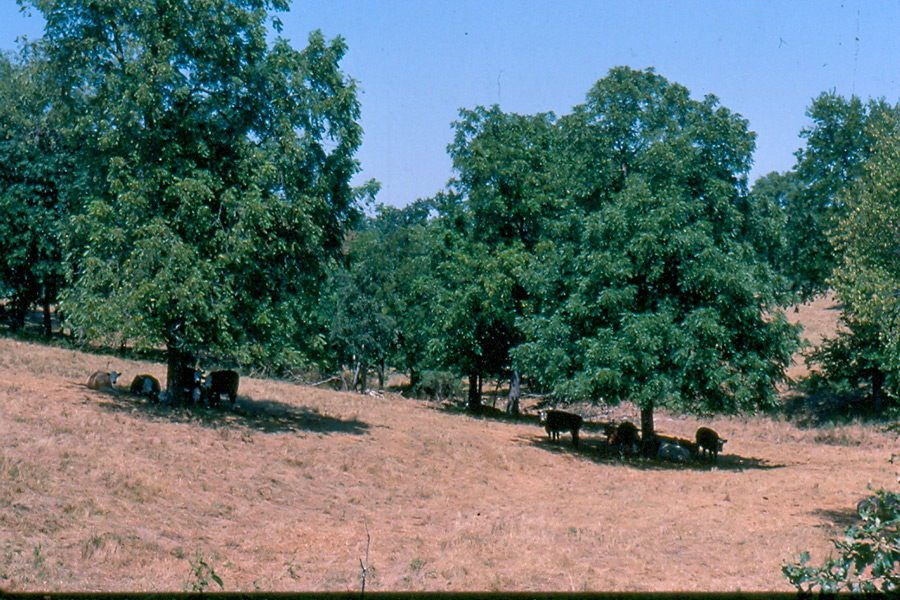 Do beef cattle need shade? Most cattlemen probably feel that's a no-brainer and answer emphatically, "yes, they need shade." Here in the Ozarks we're fortunate to have shade trees in most pastures so the questions about the benefits of shade rarely come up. With the advent of management intensive grazing, having trees in each pasture may not be possible. Thus, in our grazing schools today we spend more time on the value of shade especially for cattle, both cows and stockers.
Several states have done more studies to validate the economic need for shade. Some of the early work was done in 2002 and 2001 at the University of Missouri's Southwest Research Center, Mt. Vernon. The study evaluated the difference between shade and no shade on beef cattle grazing high endophyte or zero endophyte fescue pastures. The simple shade was provided by an 8 ft. x 12 ft., wooden frame, metal roof. In 2000 the test cattle were two Angus cows with spring calves on each 2.5 acre fescue pastures. The trial ran from July 3 to September 25.
The cows were exposed to AI and a bull prior to the start of the trial and were preg checked in late June to establish pregnancy status. The results are pretty impressive. Cows grazing the endophyte plus pastures with no shade lost 0.45 lb. per day. The endophyte plus cows with shade gained 0.27 lb. per day. The cows on the endophyte free pastures each gained 0.61 and 0.48 lb. per day.
The biggest difference showed up in the pregnancy status at the end of the trial. The cows on the hot endophyte pastures with no shade only had a pregnancy rate of 37.5% in late September. Those on comparable pastures with shade had a preg rate of 87.5%. Even on the endophyte free fescue the no shade cows only had a preg rate of 62.5% while the shaded cows on like pasture were at 87.5%.
The next year on the same pastures with the same shade setup, steers were grazed on them from April 18 until July 11. Dry, short pastures resulted in the trial being cut short, but the differences in shade vs. no shade were significant. The average difference was 0.20 lb. per day favoring the shaded steers.
University of Kentucky researchers have also compared shade to no shade pastures. Their data shows daily gain advantages for the shade cattle as follows: 1.25 lbs. for cows; 0.41 lb. for nursing calves and 0.89 lb. for steers. Their test pastures were all fescue or fescue-alfalfa mixes and the shades were manmade with no trees available in the pasture.
Arkansas researchers used dry, Brangus-cross cows in a June 12 to August 14 trial on bermudagrass pastures to compare no shade (daily gain 1.47 lbs.); artificial shade (1.81 lbs. ADG) and tree shade (2.34 lbs. ADG). Shade trees can present a problem as cattle traffic can kill them and the manure will not be distributed around the pasture as can be done with portable shades. Trees may also present a lightning risk.
The Kentucky workers recommend that when planning shade needs for stocker calves/yearlings, allow 15 to 20 square feet per head, 800 pounders and up need 20-25 square feet and adult beef cows should have 30 to 40 square feet. Ample space is needed or else cattle will crowd underneath the shade and air movement will be restricted.
The shades may be very simple and inexpensive or complex and pricey. The bottom line is shade will pay for itself over the long-haul. Research now is available that includes early-shedding data which likely supports the value of shade, especially, for late shedding animals on h
Writer: Eldon Cole
Use Tab key to loop through the section below. Press Enter or Space to enter content for each tab button. Press Esc key to exit and to go to the next section at any time.
Extension resources