4-H Food Heroes Spin Club Goes Virtual
Published:

Thursday, Aug. 13, 2020
MOUNT VERNON, MO – When COVID-19 forced MU Extension to eliminate face to face programming this spring, Extension faculty and staff had to find creative ways to stay connected to youth. Many school age children experience Extension programs such as 4-H and Food and Nutrition programs either in or after school. When schools ceased to meet, other means of programming needed to be developed.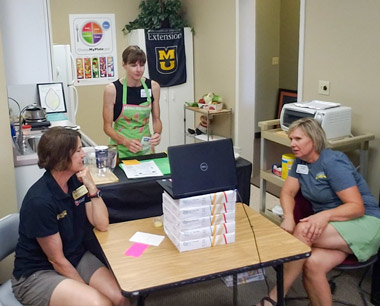 From this need, Food Heroes SPIN Club was born. Southwest Region Nutrition Program Associates Jackie Basham, Melissa Briggs, Sheri Hull and Myra Dickensheet teamed up with
4-H Youth Specialist Karla Deaver to pilot this virtual program. Utilizing Food and Nutrition program curricula, the four nutrition associates taught six one-hour sessions to seventeen youth ages 9-13 from Lawrence, Greene and Barry Counties. Each session, delivered via Zoom, featured a different recipe.  Youth participants learned a variety of kitchen techniques, including measuring, cutting, oven and stove top skills, reading a recipe and food safety.
According to Karla Deaver, County Engagement Specialist in 4-H Youth Development, learning to utilize a virtual platform such as Zoom for teaching was the first challenge. "It's much more difficult to keep things interactive in a virtual environment. The Nutrition Program Associates did an excellent job keeping the youth engaged by using various teaching methods."
Feedback from participants about the program has been very positive. Three weeks after the final class, parents were asked to provide an evaluation of the program. One parent said, "My son loved the class. He looked forward to each every week. He had been telling me how much he wanted to learn how to cook and even have his own restaurant someday. This class taught him so much. He has Autism and struggles with social interactions and it has been hard for him to get social interaction since spring break. This class provided the outlet he needed."  Another parent shared that her daughters loved the class, saying, "I liked being able to cook with other kids." Yet another parent said, "I loved the confidence built by doing. It familiarized them with the kitchen, increasing their comfort level."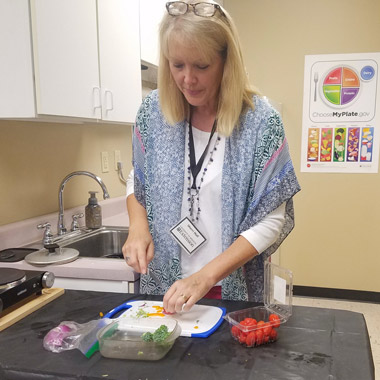 Barry County Nutrition Program Associate Jackie Basham said this about the experience: "It was very rewarding to be able to pivot with our programming and offer our nutrition and cooking skills in a different format. Doing virtual classes, we were afraid it might limit our ability to interact with the participants, but to our surprise it worked very well. In fact, it may have given these kids more opportunity for hands-on participation, since they were making the entire recipes themselves."
"Now that we have this experience in programming virtually, we will look for further opportunities to provide programs in this manner," Deaver said. "Through this platform, we can teach kids to cook in their own kitchens with their own equipment. We recorded the sessions, so if someone had a scheduling conflict, they could watch the recording later and still experience the class."
The team is discussing ways virtual programming can be utilized in other ways. "With schools still determining what their fall semesters will look like, virtual teaching may be a means for us to continue to provide important nutrition programs to school age children," said Deaver.
For more information about 4-H or Food and Nutrition Programs from MU Extension in your area, contact your local county Extension Center.
Writer: Karla Deaver
Use Tab key to loop through the section below. Press Enter or Space to enter content for each tab button. Press Esc key to exit and to go to the next section at any time.
Extension resources