MOCAN Strategic Plan 2022–2024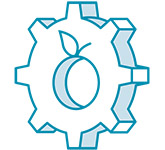 Food Systems Work Group Goals
The Food Systems Work Group seeks ways to enhance access to healthy foods through support of approaches that provide increased opportunities for nutritious food selection.
Goal
Improve access to nutritious food for all Missourians.
Objectives
Support activities and policies that increase access to SNAP, WIC, Senior Farmers Market program.
Promote federal nutrition programs in out-of-school times.
Support expansion of Double Up Food Bucks (invite members to MOCAN conversation).
Support activities that assess food security in Missouri.
Capture number of children and adults receiving FBT/IBT/MNT treatment for obesity through the MOHealthNet benefit and research currently being done across the state of Missouri.
Goal
Encourage collaboration across MOCAN, including work group members.
Objectives
Educate Food Systems Work Group members on best practice programs regarding food systems through presentations and discussion.
Goal
Increase knowledge of benefits and use of including fruits and vegetables in the diet.
Objectives
Support activities that promote and utilize local and seasonal foods.
Engage with and educate other professional organizations about MOCAN healthy eating initiatives and resources.
Percent of Individuals Food Insecure
Missouri Hunger Atlas 2019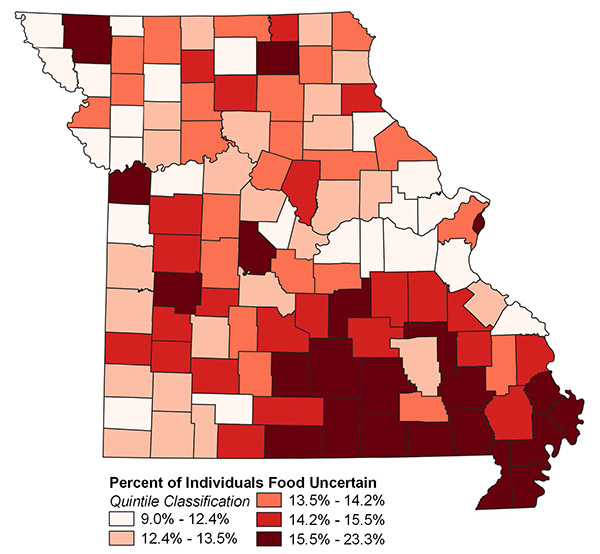 Missouri Hunger Atlas 2019. Published by the MU Interdisciplinary Center for Food Security in partnership with the MU Center for Health Policy. More information at foodsecurity.missouri.edu. © 2021 Curators of the University of Missouri. All rights reserved. DMCA and other copyright information. An equal opportunity/access/affirmative action/pro-disabled and veteran employer.
---
SNAP Eligibility vs. Participation
Missouri Hunger Atlas 2019
Percent of people who are income-eligible for SNAP.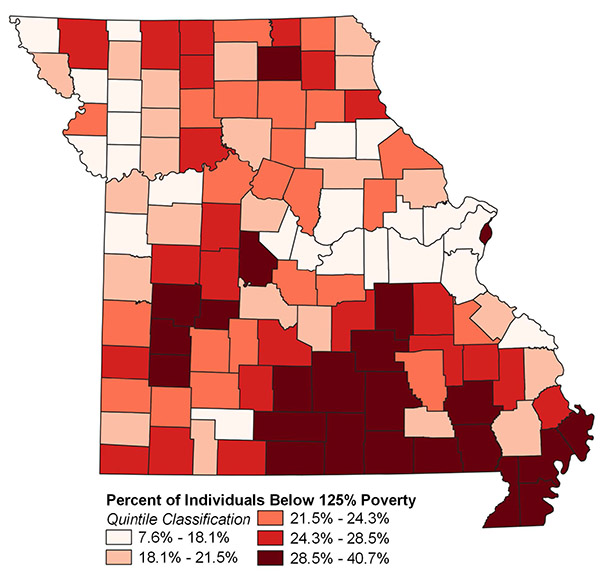 ---
Percent of people who are income-eligible and participated in SNAP.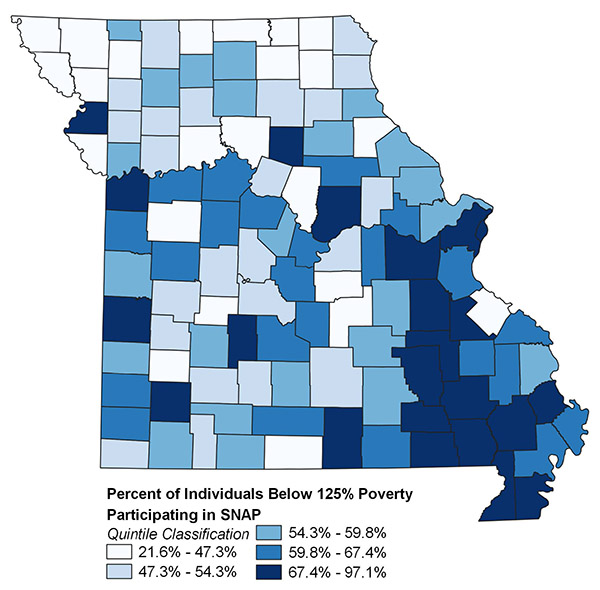 Contact the Food Systems Work Group chairs to learn more: