Missouri Industrial Hemp Production
Developed by MU Extension in cooperation with the Missouri Hemp Producers Association
Executive Summary
Following the Controlled Substances Act of 1970, all Cannabis (industrial hemp and marijuana) was illegal to produce. However, with the 2014 and 2018 federal farm bills and recent Missouri legislation (HB 2034 in 2018 and SB 133 in 2019), Missouri began allowing industrial hemp processing and is poised to allow commercial industrial hemp cultivation in the 2020 planting season. Growers will have to obtain a registration and/or permit from the Missouri Department of Agriculture (MDA) to grow industrial hemp. Producer applications will open in January 2020. Industrial hemp processors or higher education researchers do not need a permit or registration.
Consumers often confuse industrial hemp with marijuana. Both crops are produced from different varieties of Cannabis sativa L., an annual, herbaceous flowering plant. Crops of industrial hemp and marijuana plants look nearly identical in appearance. Cannabis sativa produces more than 100 phyto-chemical compounds called cannabinoids. Two key cannabinoids are tetrahydrocannabinol (THC) and cannabidiol (CBD). The legal difference between industrial hemp and marijuana is the level of THC in the plant.
THC is a psychoactive compound associated with marijuana. Cannabis sativa material with THC levels above 0.3 percent is legally considered marijuana in the U.S. and Canada. However, Cannabis sativa cultivated for marijuana production commonly has THC content ranging from 5 percent to 30 percent. Marijuana production remains federally illegal across all 50 states, though select states have enacted laws that decriminalize marijuana cultivation for medicinal or adult use.
Cannabis sativa material with THC levels that don't exceed 0.3 percent is legally termed industrial hemp. Growers often cultivate industrial hemp for the crop's fiber, grain or cannabinoids such as CBD. Industrial hemp varieties are typically grown targeted to these end markets. Consumers purchase CBD for its therapeutic reasons such as treating chronic pain, anxiety and depression developed via evidence-based research. The concentration of CBD is typically higher in selected industrial hemp genetic varieties than in marijuana. An estimated 80 percent of the U.S. industrial hemp acreage in 2019 was intended for CBD production. The remaining acreage was planted for fiber or grain. Industrial hemp uses include grain for hempseed oil and food as well as fiber for textile, industrial and construction applications.
The following sections of this report detail many key considerations for industrial hemp growers in Missouri. Understanding the regulatory climate, agronomic needs, economics and risk profile involved in producing industrial hemp is important to help growers make well-informed decisions as they seek this opportunity.
---


The following report was commissioned by the Missouri Industrial Hemp Steering Committee to prepare Missouri producers for the 2020 rollout of industrial hemp in the state. Funding was provided by Missouri Agricultural and Small Business Development Authority through its Missouri Value-Added Grant Program.
Tom Raffety, Steering Committee Member, Cape Girardeau, Missouri
Peter Rost Jr., Steering Committee Member, New Madrid, Missouri
James Marshall, Steering Committee Member, Charleston, Missouri
Jim Thurmond, Steering Committee Member, Charleston, Missouri
The following authors contributed to this report:
Joe Horner, Extension Specialist, Agricultural Business and Policy, MU Extension
Anthony Ohmes, Field Specialist, Agronomy, MU Extension
Ray Massey, Professor, Agricultural Business and Policy, MU Extension
Greg Luce, Grain Crops Specialist, MU Extension
Kaitlyn Bissonnette, Assistant Professor, Field Crop Plant Pathology, MU Extension
Ryan Milhollin, Extension Specialist, Agricultural Business and Policy, MU Extension
Teng Lim, Associate Professor, Agricultural Systems Management, MU Extension
Alice Roach, Senior Research Associate, MU Division of Applied Social Sciences
Chase Morrison, Student Assistant, MU Extension
Rhiannen Schneider, Student Assistant, MU Extension
---
1. Missouri Hemp Industry
The first reports of hemp being grown in Missouri as a crop date back to 1835 (USDA, 1914). Peak production in Missouri occurred from the mid- to late-19th century. During this period, Missouri ranked second in the U.S. in hemp production after Kentucky. Missouri hemp production peaked just before the Civil War. In 1860, Missouri production totaled 19,267 tons, which was 26 percent of the total U.S. crop (Secretary of the Interior, 1864). Exhibit 1.1 shows the distribution of hemp production in Missouri by county in 1860. The top five counties for hemp production were Saline (3,920 tons), Lafayette (3,558 tons), Platte (1,793 tons), Pike (1,758 tons) and Buchanan (1,479 tons). Missouri hemp production decreased over time due to increased profitability of other crops, challenges with transporting hemp to Eastern markets and unsatisfactory methods in cleaning fiber on hand brakes (USDA, 1914). Missouri's hemp production slipped to nearly zero by 1900. Missouri's reemergence as a hemp-producing state will require hemp derived products to capture market share from existing competing food and fiber industies.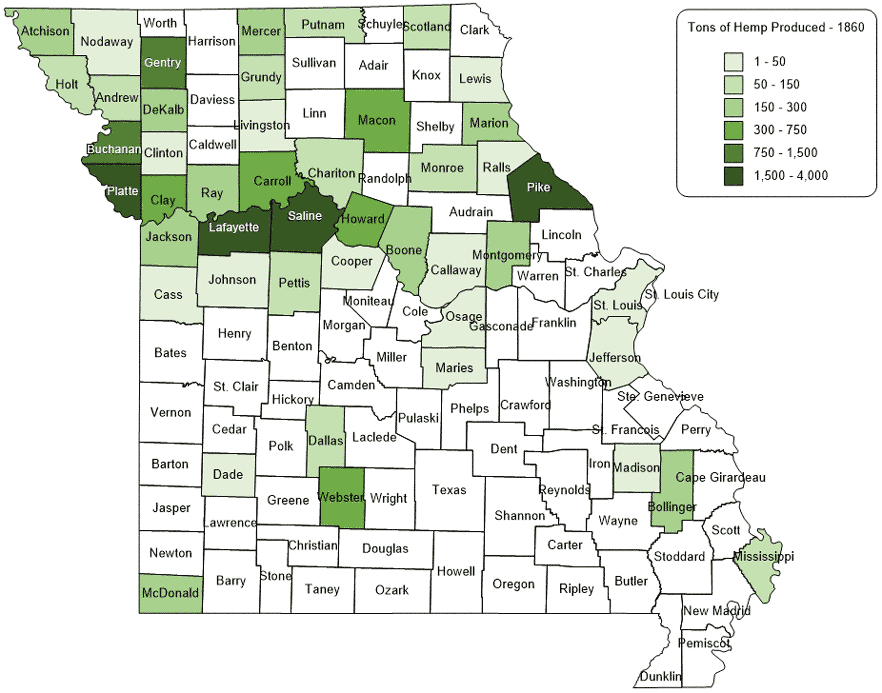 Exhibit 1.1. Missouri hemp production by county, 1860. (Source: Secretary of the Interior, 1864)
Today, some areas in Missouri still have a wild hemp population. See Exhibit 1.2. Steyermark's Flora of Missouri, last updated in 2006, has continued to find wild hemp plants in certain counties. It is known to grow in rich, fertile ground of river floodplains and bottoms near streams, but it also grows in open and waste ground. Many counties that recorded hemp production in the 1800s are the same ones where wild hemp persists today.
These wild hemp plants, popularly known as "ditch weed," may have positive and negative roles to play in Missouri's industrial hemp industry. With more than 150 years of acclimation to Missouri's climate and soils, they may find use as breeding material for future crossbreeding efforts by geneticists. Conversely, pollen drift from ditch weed could reduce cannabinoid levels in nearby CBD plantings.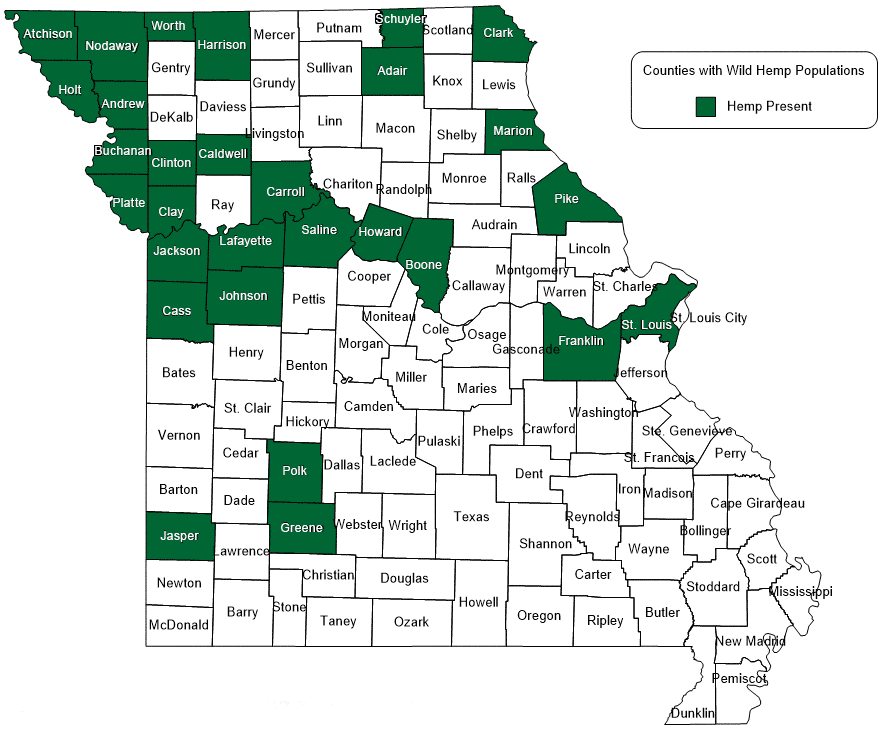 Exhibit 1.2. Missouri counties with wild hemp populations. (Source: Yatskievych, 2006)
After the Missouri governor signed Senate Bill 133 into law on June 24, 2019, it immediately allowed institutions of higher education to engage in industrial hemp research and study industrial hemp growth, cultivation or marketing without a permit. Several institutions, such as the University of the Missouri, Lincoln University, and St. Louis University began to develop research projects after this date. The University of Missouri developed industrial hemp for fiber studies and demonstrations at seven agricultural experiment stations in 2019. See Exhibit 1.3 for each location.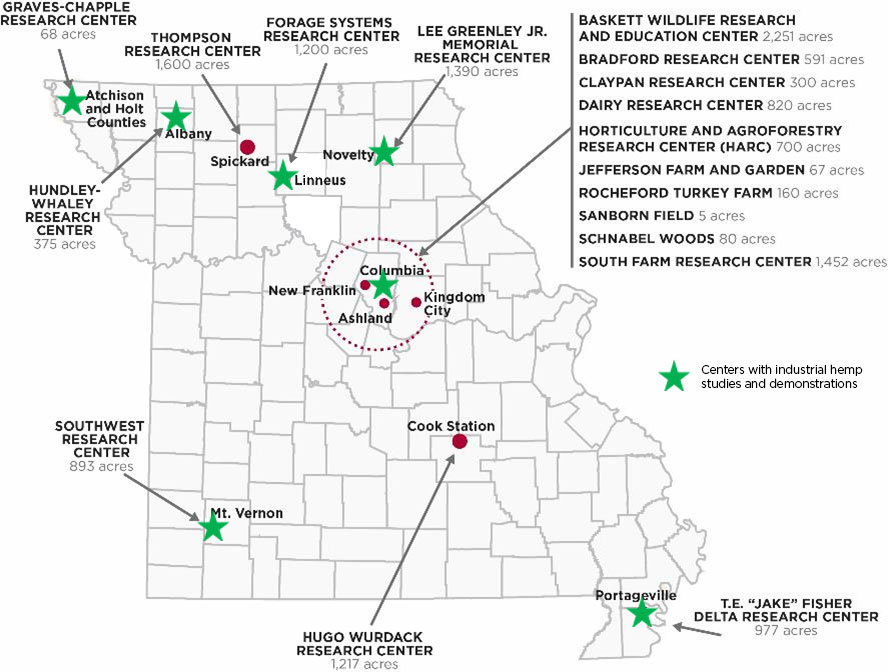 Exhibit 1.3. Locations of University of Missouri industrial hemp studies and demonstrations, 2019.
Four industrial hemp varieties (CFX-2, Grandi, Katani and CRS-1) were planted at various locations. Seed was secured and donated by Tiger Fiber Hemp Company from St. Louis, Missouri. Two locations evaluated row spacing (7.5 inch and 30 inch). Observations were taken on insects and diseases. Soil conditions varied amongst research centers from moist to dry. Planting dates varied from late June to early July by location. Please note that these planting dates are much later than recommended for industrial hemp fiber production, but the university decided to push forward to gain some information and observations for informing Missouri producers.
Exhibit 1.4 showcases some industrial hemp for fiber pictures taken of the Greenley Research Center demonstrations in 2019. At this research center, the soil was rototilled and followed by a cultipacker. Seed was drilled at 7.5-inch and 30-inch rows. The planting date was June 28, 2019. The planting population was 40 pounds per acre. Fertilizer was applied in March (8-40-100) and was followed by a July 11, 2019 application (80-0-0). Irrigation was performed on July 12, 2019.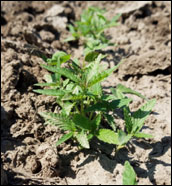 10 days after planting.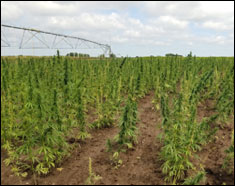 Aug. 22, 2019.
Exhibit 1.4. University of Missouri Greenley Research Center observations, 2019.
General observations from the 2019 University of Missouri demonstrations and studies include:
Herbicide carryover can be an issue in fields
No-till in late June/early July did not work very well
Need for good seed to soil contact
High soil temperatures can be an issue
Narrow rows more productive, at least when planted late
Weed pressure was significant at certain locations
2. Industrial Hemp Legislation and Regulation
2.1 Missouri Industrial Hemp Regulatory Program
The Missouri Department of Agriculture (MDA) is developing regulations and procedures for implementing industrial hemp production in Missouri. MDA published proposed rules (2 CSR 70-17) on Oct. 9, 2019. The agency collected comments on the proposed rules from Nov. 1 to Dec. 1, 2019. These proposed rules will be revised based on public comment and federal hemp regulatory guidance. MDA filed emergency rules on Dec. 17, 2019. Visit the MDA website for more information about the Missouri rules and Missouri's Industrial Hemp Program.
Permits
Under Missouri statute and MDA emergency rules, two Missouri industrial hemp cultivation registrations or permits are available. The specific permit or registration needed depends on the activity.
An agricultural hemp propagule and seed permit is needed to sell, distribute or offer for sale industrial hemp transplants, cuttings, clones and viable seed.
A producer registration is needed to grow viable (capable of growing or living) industrial hemp.
Industrial hemp processors or institutions of higher education do not need a permit or registration. Processing industrial hemp became legal in August 2019 when SB133 became law. The proposed and emergency rules include no limit on acreage or number of registrations. Separate registrations or permits are needed for noncontiguous land where industrial hemp will be produced, sold, distributed or offered for sale. Registrations or permits are good for a three-year period and will cost $750 annually. Producer registration applicants and key participants must also pass a criminal background check that is paid by the applicant ($41.75) through the Missouri State Highway Patrol automated system and is good for a three-year period.
Applications for permits or registrations will require the following information:
Complete legal name, address and contact information for the applicant
Applicant's state of residence or domicile
Type of business entity
Legal description, address, GPS coordinates and detailed map of industrial hemp operation
Non-refundable application fee ($750 annually for permit or registration)
Inspection, Testing and Sampling
All registered producers or permit holders are subject to inspection, investigation and sampling at any time. Raising hemp is legal only if a producer adheres to Missouri law and the representative sample of a crop tests at or below the acceptable industrial hemp THC level, using the post-decarboxylation delta-9-tetrahydrocannabinol (THC) as the reference standard. Under the emergency regulations, a certified industrial hemp sampler must collect samples to determine compliance with applicable law and regulations. Samples are to be collected in accordance with the MDA sampling protocol. Samples are to be obtained within 15 days prior to harvest. A testing laboratory that is registered with the Drug Enforcement Agency (DEA) or accredited with ISO 17025 standards must test samples for THC content, and the producer takes responsibility for paying testing fees. At the producer request, the certified sampler will provide a duplicate sample in the event the sample sent to the laboratory is not able to be tested. Each lot (contiguous area of the same variety) must be sampled. Certificates of analysis for all samples tested to determine regulatory compliance must be submitted to MDA.
The industrial hemp THC level is calculated using the laboratory's application of the measurement of uncertainty to the reported delta-9 THC content concentration level on a dry weight basis. If this concentration level produces a distribution range that includes three-tenths of one percent (0.3%) or less, it is acceptable. For any certificate of analysis that does not include a measurement of uncertainty, the measurement of uncertainty is deemed zero percent (0.0%). If the first test from a testing laboratory includes or is below 0.3 percent based on the measurement of uncertainty, then industrial hemp from the tested lot becomes a publicly marketable product and can be sold or further processed. If the first test measures above the acceptable THC level, the producer may request a retest by notifying the laboratory and MDA in writing. If the test exceeds the acceptable THC level, then the industrial hemp lot is considered out of compliance.
Producers must destroy lots testing out of compliance and follow the MDA's destruction protocol. Costs for destroying the crop and receiving a destruction certification are the producer's responsibility. Destruction will be verified by the Missouri State Highway Patrol or local law enforcement. No compensation is provided for the destroyed hemp crop.
Storage and Transportation
Harvested industrial hemp must not be commingled until a certificate of analysis shows the lot tests within the acceptable THC level using a post-decarboxylation method of testing. After a producer acquires the satisfactory certificate of analysis, the industrial hemp product is publicly marketable.
Transporting viable (capable of living or growing) industrial hemp in Missouri requires documentation for registered producers or permit holders. Documentation includes a copy of the producer registration; agricultural hemp propagule and seed permit; certificate of analysis for the lot(s) in transport; or bill of lading or chain of custody form if applicable. Third-party commercial transport of viable industrial hemp is exempt from permitting or registration requirements, but all viable industrial hemp being transported in Missouri must have accompanying documentation as listed above. Interstate transportation is not regulated by MDA.
Recordkeeping
An industrial hemp monitoring system must be established and kept for all registered producers and permit holders. Registered producers must maintain planting reports, sample analysis reports, destruction reports and harvest reports. Permit holders must maintain distribution/sales reports and destruction reports. Certificate of analysis copies must be provided by permit holders for each industrial hemp variety distributed or sold. This information should be made available for inspection and auditing during business hours or be furnished to the Missouri Department of Agriculture within ten business days of the request. All records, reports, data and certificate of analysis must be kept for 3 years from the date of the activity.
Hemp Seed Requirements
Permit holders have certain requirements if they are selling hemp seeds or propagules. Seed must be labeled with noxious weed seed content, seller contact information and purity percentages of pure seed, inert matter, other crop and weeds seed and treatment of seed (See Exhibit 2.1.1 for more information). Seed held for sale for other purposes (feeding or processing) must be marked on a label as such and is not subject to the other hemp seed labeling requirements.
Kind or Kind and Variety of Seed
Pure seed (percent)
Germination (percent)
Net weight
Inert matter (percent)
Hard seed (percent)
Lot #
Other crop (percent)
Total germination and hard seed (percent)
Origin
Weed seed (percent)
Month/year of germination test
Noxious weed seeds per pound or per one hundred (100) grams
The name and address of person or company held responsible for seed labeling should follow other information or should be printed on opposite side of label.
Exhibit 2.1.1. Missouri agricultural hemp seed labeling requirements.
2.2 Missouri Law on Industrial Hemp
Missouri began its industrial hemp legislation when lawmakers passed House Bill 2238 in 2014. This legislation created a legal right for Missouri residents to obtain a neurologist-prescribed registration card for "hemp extracts" to treat intractable epilepsy. The state law defined a "hemp extract" as cannabis plant or material that contains at least 5 percent cannabidiol (CBD) and no more than 0.3 percent THC. The registration card program is administered by the Missouri Department of Health and Senior Services.
The law also authorized MDA to issue up to two cultivation and production facility licenses to non-profit entities to serve these patients. Current licensees in Missouri for growing hemp extract are as follows:
Since the inception of this hemp extract program in 2014, 432 registration cards have been issued to Missouri residents (Missouri Department of Health and Senior Services, 2019). Per the 2018 calendar year, 148 registration cards were issued. Of those, 120 cards were issued to minor (below the age of 18) patients and adult patients held 28 cards. A total of 26 neurologists were recorded to be providing certification for registered patients.
In 2018, Missouri approved another hemp bill (House Bill 2034) to form a pilot program for industrial hemp and establis