Quail-Friendly Plants of the Midwest
Jewelweed
Impatiens spp.
Pale touch-me-not (Impatiens pallida)
Spotted touch-me-not (I. capensis)
Forb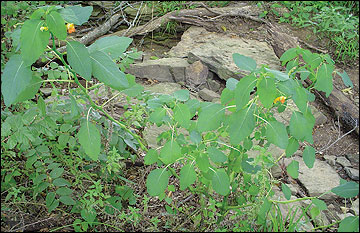 Jewelweed grows in moist, shady areas. Leaves have scalloped edges.
Scott Sudkamp, Missouri Department of Conservation

Description
Jewelweeds are annual plants commonly found in moist, shaded areas such as stream corridors. They commonly reach 18-24 inches. Leaves have scalloped edges and fleshy stems that exude a clear, watery gel-like liquid when crushed. Flowers are orange (I. capensis) or pale yellow (I. pallida). The name "touch-me-not" comes from the tendency of the ripe seedpods to snap open and throw seeds at a slight touch. Between the two species, jewelweeds can be found throughout most of the Midwest.
Bloom period
May to October
Use by bobwhites
Jewelweed seeds were often found in the diets of bobwhites studied in southern Illinois during the 1950s, and in Missouri quail crops collected in the 1940s. Plants may serve as good brood habitat as well, and their structure and association with moist, cool soils offers bobwhites refuge from summer heat.