MFA Foundation gift supports vital rural mental health resources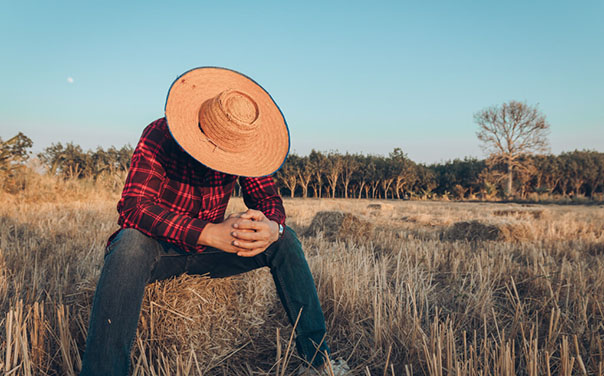 As a group, Missouri farmers and ranchers increasingly struggle with mental health challenges and access to needed resources. The state's rural suicide rate is growing faster than in urban counties, increasing 78% in 14 years between 2003 and 2017. 
University of Missouri Extension has taken a lead in developing mental health resources targeting rural individuals and families. Now, with a four-year grant commitment from the MFA Foundation, the extension team will have new avenues to fulfill its mission and support rural communities in need of mental health care assistance.
"Most parts of rural Missouri don't have access to mental health providers and services to meet the need," said Karen Funkenbusch, an MU Extension health and safety specialist and director of the Missouri AgrAbility Project. "The MFA Foundation's substantial four-year commitment will allow the expansion of teletherapy sessions and increased educational awareness in more rural communities. This generous gift will assist in the creation of more resources and the development of a statewide mental health awareness campaign targeting one of Missouri's most vulnerable and valuable populations."
MU Extension addresses the challenge through tools and programs shared by trained extension specialists with backgrounds in both agriculture and mental health. These specialists have a deep understanding of the day-to-day pressures that farmers and ranchers face—from inflation's effects on fertilizer and fuel costs to challenging weather, poor harvests and struggles with debt. The extension team brings expertise and resources directly to farmers and ranchers, and they know how to help navigate the stigma and reluctance that keep many from seeking the help they or their loved ones need.
The MFA Foundation is funded and led by MFA Incorporated, MFA Oil and local affiliates of both companies. President and CEO of Columbia-based MFA Oil Company, Jon Ihler, said the companies involved in the foundation have indelible ties to rural communities. 
"The lack of mental health support in Missouri's rural areas is an ongoing challenge. It has been difficult to address for multiple reasons, from cultural to financial, but there is a clear need for better access," Ihler said. "The MFA Foundation recognizes that need and hopes to be part of providing resources that can help fulfill it."
The Farm and Ranch Stress Assistance program is one such resource. The program provides comprehensive mental health resources, programs and telehealth counseling sessions. Farm and Ranch Stress Assistance is among several developed by Funkenbusch. She and her team have been leaders in addressing the growing rural mental health crisis and offering stress management tools and mental health interventions through Missouri AgrAbility.
Since 2020, The Farm and Ranch Stress Assistance program—broadly known as Show-Me Strong Families—has served over 2,000 farm community members in all 114 of Missouri's counties. Funkenbusch and her team teach classes and provide resources to people experiencing problems related to mental health. The material is dispersed throughout the state and resources are matched to those in need.
The program has saved Missouri participants $91,330—the amount USDA National Institute for Food and Agriculture and MU Extension scholarships covered to ensure individuals can attend the behavioral health programs, mental health and prevention of suicide classes and teletherapy counseling sessions regardless of need.
"Seeing the approach that the Farm and Ranch Stress Assistance program has taken convinced us that partnering with University of Missouri Extension will be a true multiplier for the MFA Foundation's financial support," Ihler said. "If we focus on this challenge, we can make a difference." 
Resource: The 988 Suicide and Crisis Lifeline provides 24/7, confidential support to people in suicidal crisis or mental health-related distress. To speak with a trained counselor, call, text or chat 988. These trained counselors will listen, understand how their problems are affecting them, provide support, and connect them to resources if necessary.
_______
MFA Incorporated
MFA Incorporated is a Midwest-based regional farm supply and marketing cooperative serving more than 45,000 farmer/owners in its trade area. Through its network of retail locations and affiliated cooperatives in Missouri and adjacent states, MFA provides value-added products, services and expertise to help farmers succeed. 
MFA Oil Company, formed in 1929, is a farmer-owned cooperative and the ninth-largest propane retailer in the United States. The company supplies fuels, lubricants, and propane to customers in Missouri, Arkansas, Indiana, Iowa, Kansas, Kentucky, Oklahoma, and Tennessee. Through a subsidiary, MFA Oil operates Break Time convenience stores in Missouri; a Big O Tires franchise in Missouri, Arkansas, and Kansas; a solar panel installation company, Energized Solar; and APM, a wholesale fuel distributor.
Go back
Let us help you give to support MU Extension