Identifying Grass Seedlings
Sandbur, longspine (Cenchrus longispinus)
Summer annual grasses
Description
Longspine sandbur is a coarse-textured grass with rough blades. It is off-green in color with leaves that are folded in the bud and compressed sheaths. At times, longspine sandbur will root at its nodes, and it rarely reaches a height greater than 15 inches. The blades are usually smooth, occasionally have a few sparse hairs and are 3–5 mm wide when flat. The ligule is a small tuft of hairs, and a few sparse hairs emerge from the collar.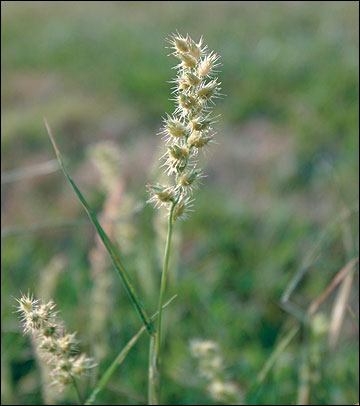 Longspine sandbur has burlike fruit.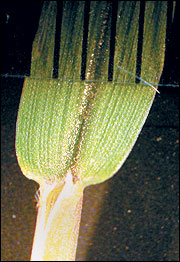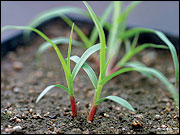 Collar region: ligule is a small tuft of hairs.
Right, seedlings.

Habitat
Longspine sandbur is most commonly encountered on sandy soils.
Distribution
Longspine sandbur is found throughout Missouri and the United States except the Pacific Northwest.
Similar species
Goosegrass leaves are also folded in the bud, but it has a small, membranous ligule and smooth texture. The ligule of giant foxtail, green foxtail and fall panicum is similar, but those species have leaves that are rolled in the bud.