Growing 4-H programs and youth success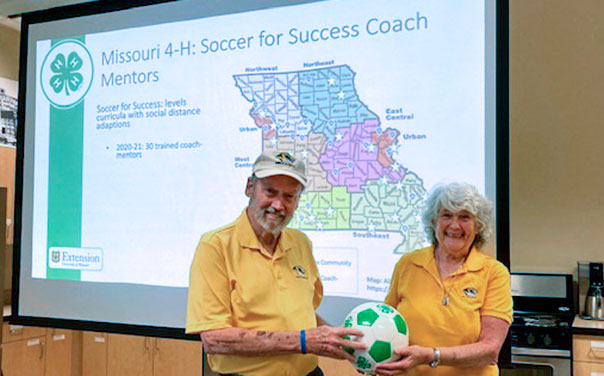 More Missouri youth are now connecting with 4-H thanks to supporters like Ken Donohew and Ellen Kippel who are dedicated to helping MU Extension bring Mizzou to all Missourians.
The couple established the Kenyon Grant Harman, Dorothy Donohew Amos, Carolyn Harman Zollman and Ruth Cora Harman Inclusion and Diversity Fund for MU Extension and Engagement. The fund supports efforts to encourage diversity and inclusion in program participation, program design and hiring.
"We are delighted to be able to support MU Extension's growth and impact on all kids across Missouri," said Ken. "Ellen and I know that 4-H has a big role to play in connecting our youth with the educational resources and opportunities they need to achieve success."
Specifically, their support is helping Missouri 4-H reach more urban and Latinx audiences through new programs like Soccer for Success and Juntos™ 4 H, as well as to expand our reach and diversify the way we deliver 4-H programing, including afterschool and in-school programs, camps and events, says Lupita Fabregas, director of Missouri 4-H Center for Youth Development.
"Ken and Ellen's generous support to foster diversity in Missouri 4-H has helped us to train volunteers and 4-H professionals around the state to deliver Soccer for Success curriculum, an initiative that will open the door of Missouri 4-H to new audiences," Fabregas said.
On a recent visit to Mizzou, Ken and Ellen learned more about the impact of their support, meeting with 4-H program leaders in Kansas City who shared details about the U.S. Soccer Foundation's (USSF) Soccer for Success program. The program engages school-age youth ages 10-13 in physical activity and health and nutrition education, along with mentorship and family and community engagement. There are now 30 trained coaches and mentors in all eight extension regions across the state.
They also learned about Juntos™ 4 H — a program that helps Latino youth in grades 8 – 12 and their families gain the knowledge and skills they need to bridge the gap between high school and higher education. The program was first developed by North Carolina State University in 2007. Missouri 4-H hosted a Juntos training in November for 20 professionals who will be offering the program around the state in partnership with local professionals and the Missouri Department of Education.
"These culturally relevant, bilingual educational programs are open to all youth. We thank supporters like Ken and Ellen who help foster growth in Missouri 4-H programs and reach even more youth," said Liliana Sánchez, 4-H youth program associate, who helps run the Soccer for Success program in Independence, Missouri.
Dwayne T. James, MU Extension county engagement specialist in St. Louis County and Equity, Diversity and Inclusion lead, also met with Ken and Ellen during their trip: "They have a true passion for diversity and inclusion based on their life lessons and experiences. They would like to see youth have access to a better life and see how we can best support, educate and partner with residents, young and old, throughout the state. They want to be part of that important journey."
Go back
Donate to These Funds Today
Let us help you give to support MU Extension