For life-long learning and connections, support Mizzou Giving Day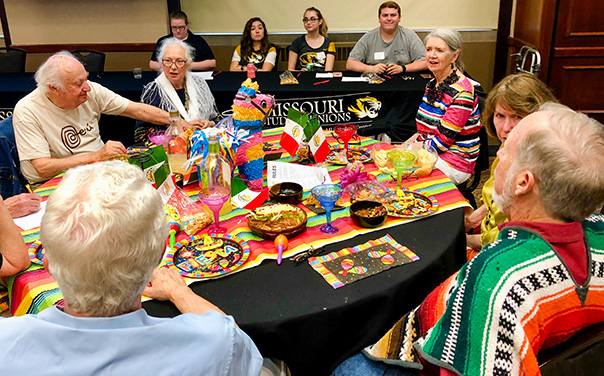 For Helen and George Washburn, "lifelong learning" is more than a program motto: it is central to how Helen, former president of Cottey College in Nevada, Missouri, and George, a former high school principal, create community.
When the couple retired to Columbia, Missouri, they were looking for ways to make a difference in their new hometown. An Osher Lifelong Learning Institute course about China that Helen took and a memoir writing course that George chose not only launched their involvement with Osher but has also helped them forge deep friendships and cemented strong community ties.
Since the first course they took in 2006, the couple has added dozens more to their Osher repertoire. Before long, Helen was asked to join the advisory council, where she has served for the last decade, including a stint as council chair.
"Given my background, I felt that I was able to contribute in leadership and fundraising. That volunteer part has been such a rewarding aspect of my life in Columbia," Helen said.
The Washburns were among 42 founding members of Osher Advocates — raising $45,000 in an initial campaign in 2017 alone.
"This is an investment in something that's really important for people our age — to have this intellectual and social engagement. We feel proud to be able to support this program and help sustain its continuing excellence," Helen said.
Helen, for instance, was delighted to find Missouri's first poet laureate, Walter Bargen, was a classmate in a poetry course taught by long-time Osher instructor Tom Dillingham. George estimates he has taken as many as 20 courses over the years, and "every one of them has been great." That first course in memoir writing nearly 15 years ago has evolved into a rewarding avocation for George who belongs to a group that meets weekly to refine their practice.
The diversity of people involved in Osher is really important, too. "You not only benefit from the quality of instruction but also from the contributions of fellow class members," George said. "It really keeps your brain going."
Helen's leadership role brings her in contact with other Osher programs nationwide. The MU Extension Osher affiliate "is definitely in the top tier" in terms of strong leadership and staff support and volunteer partnership, Helen said. "We are very fortunate to have the variety and quality of courses and opportunities to interact that we do."
On Mizzou Giving Day, please join us in supporting MU Extension and Osher Lifelong Learning Institute programs to help older adults stay connected and engaged.
Go back
Let us help you give to support MU Extension