Support Mizzou Giving Day: the perfect recipe for Missouri 4-H impact and success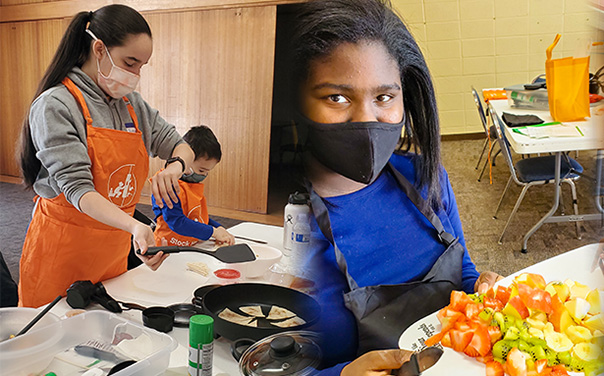 Theresa Alvarez carefully counts down two minutes on her watch before flipping the tortilla chips so they will have just the right crunch. This is one of the final steps in the recipe the Ruskin High School student prepared during a Saturday iCook 4-H class at the Bethel Family Worship Center in Kansas City.
The class is part of the 4-H Student Nutrition Advisory Council club programming that teaches youth ambassadors hands-on health and nutrition skills that they, in turn, share with their peers and family members in their community.
For their first of eight classes that began this February, ambassadors learned how to prepare Fruit Salsa with Cinnamon Crisps — practicing culinary skills such as washing fruits and vegetables, safe knife-handling, accurate measuring and timed cooking. Youth members and families create each recipe in class. With support from Healthy Blue, a managed care plan administered by Missouri Care, Inc. and Blue Cross and Blue Shield of Kansas City, they take the ingredients home to make another batch with other family members.
"4-H iCook carries on our strong tradition of bringing families together to learn and grow. As the 4-H members and their families progress through 4-H SNAC program, the youth will have the opportunity to become community leaders by developing a youth-led initiative to promote healthy habits," said Andrea Wikiera, 4-H field specialist in 4-H youth development. "We are excited to see the impact they will make in their community!"
On Mizzou Giving Day, please join us in supporting MU Extension and Missouri 4-H, so more young people like the SNAC ambassadors develop the skills and confidence to become true leaders in their communities.
Go back
Let us help you give to support MU Extension