Fire and Emergency Services Instructor, 8th Edition Study Guide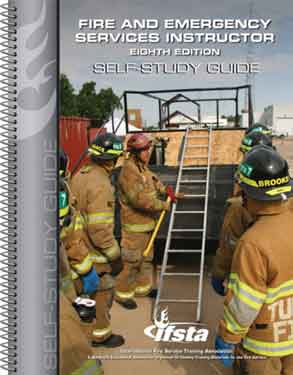 Editor's note
The following abstract describes a publication that is available for purchase in print or on a USB flash drive. See the "Add to cart" button on this page.

If needed, see the MU Fire and Rescue Training Institute tax-exempt ordering information.
This self-study guide is a supplement to the 8th edition of Fire and Emergency Services Instructor manual. The questions are designed to help students remember information and to make them think. The guide contains hundreds of multiple choice questions. The answers, found in the back of the self-study guide, are listed by chapter. Each answer is referenced to the Fire and Emergency Services Instructor (8th edition) manual page on which the answer can be found.
USB flash drive details
This electronic self-study guide allows students to proceed through the questions in random order, find out immediately whether their answers are correct, and be referred to the source for the correct answer if necessary. All questions are in the multiple-choice format, which provides good practice for civil service and certification examinations. At the end of each session, the program provides a review sheet and allows students to retake any missed questions. Each time the student goes through the program, the questions are rearranged randomly so that no two sessions are identical.
Requires a Microsoft-supported version of Windows and the Adobe Flash Player, which is available as a free download.
Product specifications
Publisher: International Fire Service Training Association (IFSTA)
Printed version specs
ISBN: 978-0-87939-442-4
Pages: 96
USB flash drive specs
ISBN: 978-0-87939-443-1