Fire and Emergency Services Instructor, 8th Edition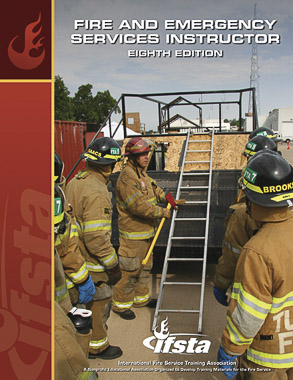 Editor's note
The following abstract describes a publication that is available for purchase in print or as an e-book. See the "Add to cart" button on this page.

If needed, see the MU Fire and Rescue Training Institute tax-exempt ordering information and e-book details and policies.

E-book activation and access: Please allow up to two business days to receive your activation code and download link by email.
Fire and Emergency Services Instructor Eighth Edition helps students meet the job performance requirements of NFPA 1041, Standard for Fire Service Instructor Professional Qualifications (2012) for Instructor levels I, II, and III. The manual also provides a reference for instructors who may perform duties outside of their current certification levels. This new edition has been reorganized to provide clearer separations between the three instructor levels: Chapter 1–9 cover Level I, Chapters 10–14 cover Level II, and Chapters 15–17 cover Level III. The text has been shortened from 22 chapters to 17. As a result, the text is more concise and easier to teach. The text reflects new changes in the NFPA standard, including a discussion of bias in instructional and testing materials.
Chapters
The Instructor as a Professional
Principles of Learning
Instructional Planning
Instructional Materials and Equipment
Learning Environment
Classroom Instruction
Skills-Based Training Beyond the Classroom
Testing and Evaluation
Records, Reports, and Scheduling
Lesson Plan Development
Training Evolution Supervision
Test Item Construction
Supervisory and Administrative Duties
Instructor and Class Evaluations
Course and Curriculum Development
Training Program Evaluation
Training Program Administration
Product specifications
Publisher: International Fire Service Training Association (IFSTA)
Printed version specs
ISBN: 978-0-87939-441-7
Pages: 504
E-book specs
ISBN: 978-0-87939-468-4
For more information, see e-book details and policies.