County endowment funds: a way of paying forward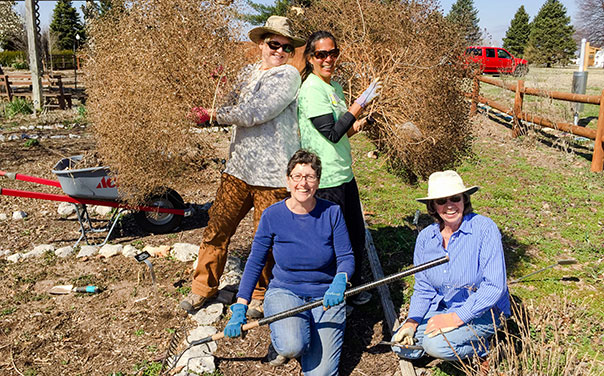 Ever since Dr. Maude Harris, County Engagement Specialist in Nutrition and Health, started working for MU Extension in Scott County 26 years ago, she has donated a portion of each paycheck to her county's endowment fund.
Over the years, those steady gifts have helped build up the endowment principal amount to the level where the fund now can be used to support programming.
Though Scott County has not yet had to tap its endowment, Dr. Harris says, "Funding can change at any time, and you don't want programming to have to change because of that." She points to the impact of the multi-county women's health conference that MU Extension in Scott County, with key community partners, has organized every October for more than 17 years. The event is free, thanks to generous donors and sponsors, and connects 200 or more women from counties across southeast Missouri with vital health information and resources that most participants would otherwise not know about.
"I want to be sure the next generation of Scott County Youth and Family Specialists have the funds they need to continue programs like this," Dr. Harris said. "I see the endowment as the gift that keeps on giving. It's a way of paying forward to the community."
MU Extension Chief Development Officer James Preston said, "County endowments provide a sustainable local-controlled resource that helps fill revenue gaps when other sources are not enough. Gifts to county endowments are most often made by local donors who want to help grow extension programs that reflect local needs and interests. Donations to county endowments cannot be used for anything other than the improvement of the county."
There are currently 79 Extension county endowments, and more county councils are working with Extension Advancement to activate pending endowments and add new ones.
"Donations are the lifeblood of any community program, often being the deciding factor of whether programs like Master Gardeners, 4-H, food and nutrition, agricultural education programs can be offered," Preston said.
Greene County's MU Extension endowment is such an example. George Deatz, former chair of the Greene County MU Extension Council and a Master Gardener, remembers a time when budget woes cut into the county's extension budget, limiting programs that Greene County could offer.
David Burton, Greene County's engagement specialist in community economic development, notes that sustained effort over the last years has grown the county endowment fund to more than $10,000. The $1,600 Green County is getting this year from the endowment is going to its Council Mini-Grant fund to be awarded based on proposals received during the year.
"We certainly have goals of growing it even more. We think that's a very important piece for our future programming and future operations."
Preston concurs: "Building endowments will help to enhance Extension's long-term financial stability and improve our partnership with Missourians across the state to improve lives and communities."
Every gift builds impact
Take a peek at the Ralls or Shelby County Facebook pages. From ham curing to hard cider making, from calculating farmland values to cooking and storing food safely, from youth development to diabetes management, MU Extension is a vital partner and hub.
Donating to your local MU Extension county endowment fund is one way to help sustain and grow local programs and impact, as Ralls and Shelby counties discovered when they participated for the first time in last November's Giving Tuesday campaign. Not only a big boost to local budgets, donations grow awareness of and support for local extension work.
Ralls County: $1,150

"The goal was to strengthen the 4-H program and extension in general in the county. Local support for extension is strong. Growing an endowment is one way we can diversify our funding and keep extension strong locally."
— Jim Meyer, county engagement specialist in nutrition and health education, Ralls County

Shelby County: $1,225

"We are very pleased and honored to have such a supporting community!"
— Carrie Elsen, county engagement specialist in nutrition and health education, Shelby County
Give Now
Start making a difference in your county by making a donation today.
Contact for More Information
For questions about setting one up or donating to MU Extension endowment funds, contact James Preston.
Learn more
Here are frequently asked questions and resources to help you gain a better understanding of endowments.
Go back
Donate to These Funds Today
Let us help you give to support MU Extension