4-H summer camp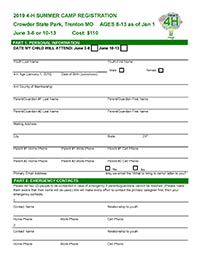 The Caldwell County 4-H Summer Camp is held for members between the ages of 8 and 13 at Crowder State Park in Trenton, Missouri. Cost is $110.
In compliance with the fire code, the camp can accommodate 102 campers each week. We will accept 34 males and 68 females.
Registration is not complete until both the application and payment are received.
Registrations will be dated and taken on a first-come, first-served basis for 4-H camp at Crowder State Park. Completed registrations will be accepted until the camp fills or until the registration deadline, whichever comes first.
A current health form will be taken from 4-H Online. Please make certain your child's health information is up to date.
Return the complete registration and camp fee to Daviess County Extension, 102 N. Main, Suite 1, Gallatin, MO 64640.
The 4-H camp application is fillable but must be copied and mailed with payment to Daviess County Extension.
We must have 12 cabin chaperones each week of camp. If we do not meet this requirement, we cannot hold the camp. Please talk with your county 4-H staff about the opportunity to volunteer.