Aircraft Rescue and Fire Fighting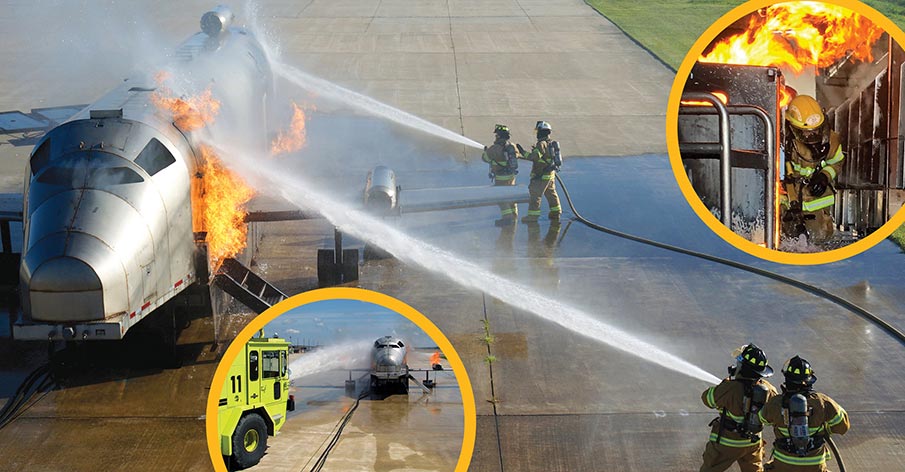 We come to you!
MU FRTI proudly continues to train airport personnel since 2001 when the Aircraft Rescue and Fire Fighting (ARFF) program was created for airports in Missouri, Kansas, Nebraska and Iowa. Since then it has expanded to over 100 airports with funding provided by the Missouri Department of Transportation and the Federal Aviation Administration. Our team consists of International Fire Service Accreditation Congress certified fire service and live-fire instructors and utilizes commercially designed and built mobile live-fire training props. They are custom built to provide safe and realistic interior and exterior firefighting evolutions and spill fire simulations and provide sufficient fire area to meet the requirements for both Index A and Index B airports. We can train at any location with a 250-by-250-foot concrete or asphalt surface. We come to you!
On-site live fire training
At your agency
Part 139 live fire refresher
Realistic simulations for triennial drills
Hands-on live fire training
Over 100 airports trained
Established in 2001
Save on training costs
We come to you!
Show/Hide

Save on training

Your training budget will get more for the dollar by using our Mobile Aircraft Fire Training (MAFT) unit. When training is completed at your organization's airport, airfare, mileage, overtime, lodging and per diem costs are drastically reduced or eliminated. The MAFT is capable of producing a wide range of realistic training scenarios including a fully engulfed aircraft, a forcible entry situation or a 1,300-square-foot fuel spill burn area. The unit incorporates a 50-foot aircraft simulator fuselage to challenge aircraft rescue firefighters.

Show/Hide

Meet federal standards

The Mobile Aircraft Fire Training unit and is designed and constructed to meet Federal Aviation Administration (FAA) Advisory Circular 150/5220-17, design standards for an aircraft rescue and fire fighting training facility. The firefighter training is conducted as outlined in FAA Advisory Circular 150/5210-17, Federal Aviation Regulation Part 139.319 and National Fire Protection Association (NFPA) 1003, Standard for Airport Fire Fighter Professional Qualifications.

Part 139 Live-Fire Training: Meets or exceeds all applicable FAA and NFPA standards and provides safe, realistic training for airports that need to comply with FAA Part 139 training requirements

Triennial full-scale airport exercises: We provide live-fire and smoke during exercises that add realism to training drills. Firefighters will perform suppression and rescue operations exactly how they would during a real incident.

Show/Hide

Training features

Fuselage fires
Left and right wing engine fires
Cargo fires
Galley fires
Left and right wheel fires
Flashover simulator
Battery compartment
Two high and two low sacrificial cut panels for saws, piercing nozzle or forcible extrication
Overhead compartment fires
1,300 square feet of fuel spill burn area
Tail engine fires
Passenger compartment fires
Flight deck fires
Exploding tire simulator
Smoke machine for realism
145 and 115 pound rescue mannequins
Overwing entry and egress for firefighting and rescue operations

Show/Hide

Flexible schedules

Training can be conducted day or night, on weekdays or weekends throughout the year to meet the needs of your organization. We encourage locations that desire training to coordinate with neighboring organizations and share costs. Airports, fire departments, fire protection districts, medical services and local businesses will all benefit from the training. Areas with multiple airports in need of training but insufficient funding are encouraged to collaborate. Multiple airports sharing funding can create training schedules that will allow each location to host rotating yearly.

Show/Hide

Training location history
Courses
Schedule training
For more information, contact Aircraft Rescue Firefighting Specialist Mike Lloyd to discuss how our training can meet your organization's needs.