A livestock legacy lives on
An Eldon Cole Memorial Fund has been established to recognize the late Eldon Cole's long career as an Extension livestock specialist, according to James Preston, chief development officer with the Office of MU Extension and Engagement. The University of Missouri Board of Curators recently approved naming a new livestock facility at the Southwest Research, Extension and Education Center (SW-REEC) in Mount Vernon in honor of Cole. The Memorial Fund will support educational programming and facility operations at the new building.
Cole was a longtime employee of MU Extension, serving 58 years before his death in April 2022. After four years in Saline County, he started with MU Extension in Lawrence County in 1968, becoming one of the most well-regarded livestock specialists in the state. He worked closely with faculty and staff at the SW-REEC, offering hands-on workshops, resources and advice to producers.
Contributions to the Eldon Cole Memorial Fund will go toward the endowment to sustain operations and provide MU Extension programming in his namesake facility.
"Eldon worked so tirelessly with our livestock producers in southwest Missouri for so many years. He was the go-to for so many producers," said Jay Chism, SW-REEC director. "The new building will allow us to host educational programs such as artificial insemination and other livestock handling programs. This is just the perfect way to honor his amazing legacy."
In fact, it was Cole who first expressed the need for the building to Mizzou leadership, Chism said. Cole's role at MU Extension saw him learning the science of livestock production and translating it into messages producers were ready to understand. His purview also included forages, insects, weather and marketing.
The groundbreaking for the new building was held in November 2022; construction is scheduled to be completed by June 2023. The facility is a joint project between MU Extension and the College of Agriculture, Food and Natural Resources.
"The goals of the new building are to offer more public education and research opportunities," Chism said. The facility, which will sit on the portion of the REEC north of I-44, will offer an indoor space for breeding activities like pregnancy checking, healthcare procedures such as vaccinations, and research data collection like blood draws; it will also feature an observation deck.
In addition to conducting research, SW-REEC facilities are used to provide community education that helps area farmers improve practices and make their own farms more productive and profitable. Chism said he looks forward to offering classes through MU Extension to area farmers that the REEC currently cannot support, including topics like artificial insemination in which live demonstrations are key to learning.
Go back
Donate to These Funds Today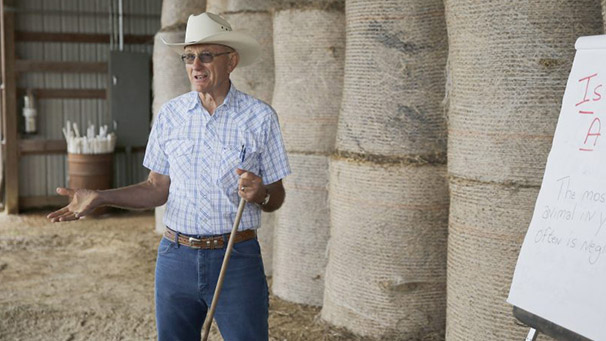 Let us help you give to support MU Extension